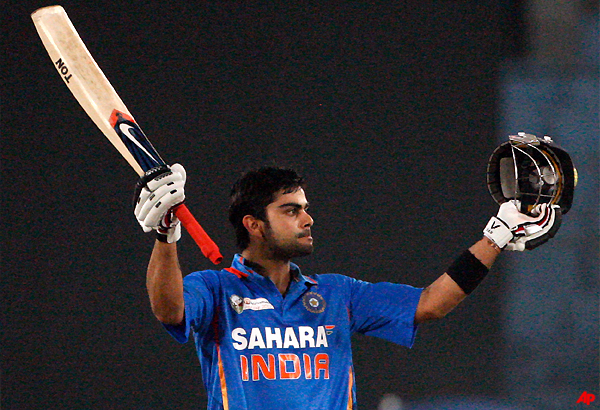 Mirpur, Mar 19:
As he struck his third century in the last four innings, India vice-captain
Virat Kohli
said his 183-run knock against Pakistan today's was "special" and that he has learned to value his wicket.
Kohli had scored an unbeaten 133 against Sri Lanka in Hobart when India chased 321 with 80 balls to spare in the tri-series but the young Indian said Sunday's knock was more special.
"I will rate it with Hobart, not equal but sort of more special because of the sort of game we were playing today. It was a special game for us against a good opposition," Kohli told reporters at the post-match press conference.
Kohli's score in his last four innings, including knock against Pakistan, read 183, 66, 108 133.
"Batting at number three is an important position and I value my wicket more now because if I get set a good platform, I will be able to cover up, and that has been my strength and I will stick to that," he added.
Asked if the double century played in his mind, Kohli said, "For a brief period it did come to my mind but I told myself that I was thinking something else and I decided to get back to the game and tried to look at the ball and hit it."
Kohli today scored his 11th century today but the 23-year-old said he didn't have any recipe of success.
"There is no recipe, I give myself the best chance every time I go out there, I try to stay till the end, that's my only aim and it is working for me. There is no special recipe, everyone wants to go out and score runs.
"I was able to go that extra mile today because I wasn't getting big hundreds and getting out at 40th or 42nd over. So I decided to apply myself more today as it was an important game for us," he said.