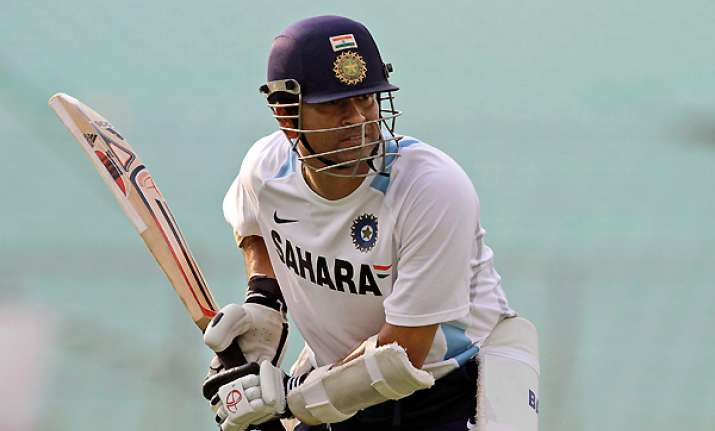 Kolkata, Nov 13: Eden Gardens' low sight screens have once again become a major point of concern ahead of India's second Test against the West Indies with Sachin Tendulkar requesting the state association to raise the height for a better view against the tall Windies bowlers.

Tendulkar, just one short of 100 international centuries, made a plea to the Cricket Association of Bengal (CAB) who later said they would cooperate fully as the Mumbai maestro was approaching an incredible milestone.

During India's net session, Tendulkar seemed unhappy with the Eden sightscreens again as he had a long chat with CAB officials Biswarup Dey and Gautam Dasgputa, pointing at the sightscreens on both the ends.

Tendulkar also pointed at the patches of grass that was distinctly visible at the high-court end and it appeared that it would be trimmed the day before the match so as to assist the Indian spinners.

CAB joint-secretary Dey said it was just a sincere request from Tendulkar and they would do their best to cooperate with him.

"Tendulkar is eyeing a very important milestone in his career. 100th international century is a never-before record. CAB will fully cooperate to raise the height, by covering few rows of seats in the lower tier."

The raise in height in both the ends, incidentally, would cost CAB about 1500 seats and Dey said it's up to them to decide on that.

The Eden sight screens have long been a problem and during the World Cup, ICC technical team also objected to the lower height as the stadium lost out on India's sole fixture at the venue.

Eventually CAB had to comply with the ICC guidelines of 25 feet height and 50 feet width sight screen before getting an ICC clearance.

The current height is 16 feet which has been achieved by covering a few lower tier seats with white clothes behind the two sight screens.

Asked why CAB was not getting a permanent solution to this, Dey passed on the buck to the curator.

"I don't know much about the height details. It's the curator who determines the height and all."

Meanwhile, curator Prabir Mukherjee said he does not have any say in this and it's the match referee and umpires who decide on this.

"Match referee and umpires are the technical persons. It's not my work to see who has what problems. It's not my job."

On the grass left on the strip, Mukherjee said usual mowing would be done on Sunday before a quick roll on the wicket.