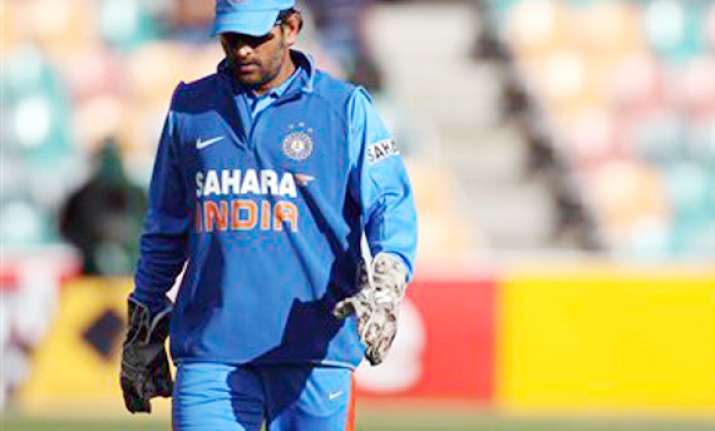 New Delhi, March 5: It has taken less than a year for the Indian cricket team to be reduced from the top-ranked Test side and one-day world champion to a bruised and battered outfit with fissures within.

Eight consecutive Test defeats abroad and an unimpressive display in one-dayers has forced critics to question the attitude of players who have failed to turn things around.

The slide began when India lost the top Test ranking to England with a 4-0 whitewash in July-August last year, and it was then humbled by the same scoreline in Australia to hit a new low in Tests overseas.

Though it has done well in one-dayers at home, the failure to win a single limited-overs match in England and the inability to make the finals of the triseries, now being played between Australia and Sri Lanka, has made Mahendra Singh Dhoni's team look a shadow of the one that lifted the World Cup at the Wankhede stadium on April 2.

Gautam Gambhir's remark on Dhoni completing wins too late in one-dayers, and Dhoni's jibe at Gambhir, Virender Sehwag and Sachin Tendulkar about being slow in the field during the triseries point to dissent amid a colourless display brightened only by Virat Kohli's 133 not out in India's last triseries match against Sri Lanka.

India's other World Cup winning captain, Kapil Dev, has criticized Dhoni for appearing aloof and not doing enough to get the team together in England and Australia.

"The team did not appear to be one unit," Kapil Dev wrote in a column.

"Dhoni the captain was listless and uninspiring. And his comments against the seniors in a press conference were not in the right spirit."

Former Australia captain Steve Waugh also feels the Indian team is not playing as a unit.

"There will be the predictable blame game and media scrutiny, but I hope some serious attention is paid to the attitude of this Indian team," Waugh wrote in Sunday's The Times of India.

"There were too many rumours of camps being formed in the change rooms and not all of them could be untrue. Clearly it was a divided house and some of the tensions were visible on the field as well."

The Indian media has also been speculating on Dhoni's influence is the decision to rest Sehwag from this month's Asia Cup in Dhaka owing to an injury, the details of which were not explained by selectors, as well as the naming of Kohli vice-captain ahead of Gambhir.

Selectors otherwise did not seem inclined to try many youngsters in the low-profile continental tournament and even selected Tendulkar, who has been taking limited part in one-dayers in recent years but now gets another chance to reach a much awaited, and unprecedented 100th international century.

Former Australia captain Ian Chappell, though, feels Tendulkar is proving to be a burden for the Indian team.

"That's been a huge hurdle for India to overcome all summer -- Tendulkar's search for his 100th century has become a burden on the team as well as the player," he wrote in the Sunday's edition of Australia's Daily Telegraph.

"There's only one reason to play cricket; to help your team win matches. If a player gives everything and the team loses there is no shame in that, but when individual statistics start to overshadow the team result, then clearly there is a problem," Chappell wrote.

While the experienced Test batting line-up of Rahul Dravid, Tendulkar and VVS Laxman has suddenly looked an aging one, younger ones like Suresh Raina, Rohit Sharma and Ravindra Jadeja don't seem to be pulling their weight in one-dayers abroad.

Former India captain Sourav Ganguly says the Krishnamachari Srikkanth-led selection committee needs to make some tough decision in the coming months with Australia and England due to tour India next season.

"India have been exposed in all departments in the eight Tests they have played in England and Australia," Ganguly wrote in a column.

"It's time the selectors took stock of the situation. They will be committing a huge mistake by sweeping the issue under the carpet."