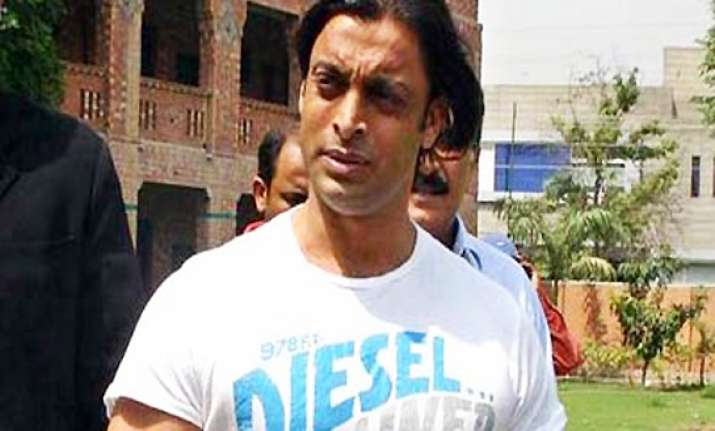 Lahore, Jun 23: Former Pakistan speedster Shoaib Akhtar believes Twenty20 cricket has caused immense damage to Pakistani cricketers affecting their techniques and also posing fitness issues for players.
"I think T20 cricket has not been good for our players and their techniques have been affected negatively and too much of T20 cricket is also posing fitness issues for them," he told reporters in Lahore.
The former pacer who retired during the 2011 World Cup said he would advise players to focus on one-day and test cricket despite the lure of money in T20 cricket.
"I know there is lot of money involved for players in the shorter form but I would advise them to focus on one-day and tests because that is the real test for a cricketer and improves his fitness and techniques."
Talking about reports about making a comeback for Pakistan, Shoaib who remained a controversial figure in Pakistan cricket said he had thought about it.
"I thought I should try to play for my country again but fitness issues have stopped this from happening as doctors have advised me against returning to international cricket," he said.
Shoaib said he intended to pay back Pakistan cricket by scounting out and grooming new talent for the country.
"I want to do something for Pakistan cricket and I think I can do that by scouting out talent from every nook and corner and neighbourhood of the country because I know this is huge talent in our country and it just needs to be tapped properly," he said.
The former pacer said that he was saddened by the recent life ban reports of Danish Kaneria and the involvement of Pakistani players in spot fixing issues.
"If we had not lost Mohammad Aamir and Mohammad Asif to the spot fixing scandal we could have won the 2011 World Cup it is sad we are losing players like and I always say greed leads to a person's downfall," he added.
Shoaib hoped the recent spot fixing incidents would force the younger players to learn a lesson that there is no short cut to fame or money.
"This comes from hardwork and dedication and players must realize that there is no greater honor than playing for your country and doing well for it."