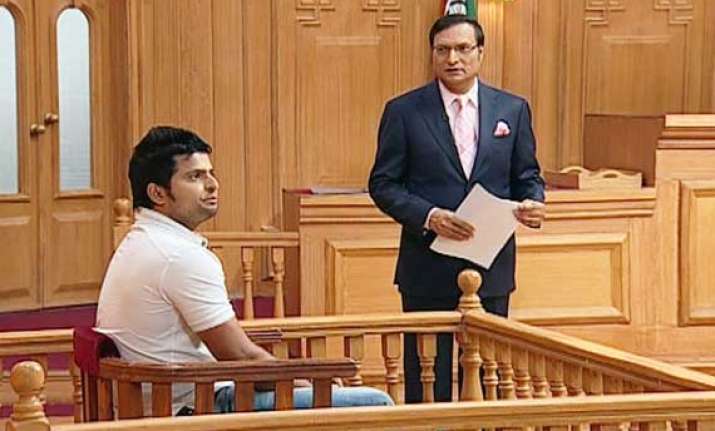 New Delhi, June 1: Batsman Suresh Raina has denied that Team India captain Mahendra Singh Dhoni has differences with Virendra Sehwag and Gautam Gambhir.
The left-hander opening batsmen rejected reports of "dressing room tension" between Dhoni and Sehwag.  
Replying to question in
Rajat Sharma
's Aap Ki Adalat, Raina said: "Koi tension nahin hai (there's no tension). They are always seen together on the grounds. I don't know what happens inside the rooms, but I have seen Dhoni seeking advice from Virubhai, and even Paji (Harbhajan SIngh) joining them too. After all, we stay together for 250 to 300 days a year." 
Asked whether Gautam Gambhir was unhappy with Dhoni because
Virat Kohli
was made vice-captain in his place, Raina replied: "It was the decision of selectors. Gambhir, as I know,  is a fighter. I don't think he even ponders about such things. Ultimately, the nation, the team has to win." 
On Gambhir's remark after winning the
IPL
trophy that 'it's the team which makes a captain, nobody can become a succesful captain on his own', Raina said: "I agree".  
Asked whether the remark was aimed at Dhoni, Raina said: "I don't think so." 
Raina strongly defended the Indian Premier League (IPL) saying, it boosts the confidence of Indian players preparing for internationals.  
He said, this year's IPL has been one of the most exciting yet, with several matches being decided on last balls.  
"Indian players, some of whom come from poor backgrounds, get to take part in IPL, earn money for their parents and get the opportunity to gain experience from the likes of Sachin, Dhoni, Sehwag, Fleming, Hussey and Hayden in the dressing rooms.  
"IPL helps Indian players to prepare for tournaments. We won the World Cup, scored first ranking in both Tests and ODIs. It helps our players to gain confidence. Moreover, in the 3-year contract, if one performs well in the first year, and badly in the second and third year, he stands to get less money. 
"In such tournaments, you sometimes have good things and bad things too, but the IPL experience overall helps Indian players to gain confidence for the next nine months", said Raina.  
Raina said, it was always a pleasure for him to open the innings with Sehwag.  
"In Indore, when Sehwag cracked his double ton (219) against West Indies, I was partnering him. Sehwag was singing Kishore Kumar's song "idhar chhakka, udhar chhakka". From his body language, I knew he was going to do something big that day." 
Asked what Sachin Tendulkar sings when cracking a ton, Raina said: "I don't know. But he is a fan of Michael Jackson, and loved old numbers of Kishore Kumar and Lata Mangeshkar." 
"At night, while sleeping, Sachin keeps three to four crickets on his left, and a picture of Sathya Sai Baba on his right", revealed Raina.  
On reports about being seen with Bollywood actor Anoushka Sharma, Raina said: "Yes, I met her in England once. She had come there for her shooting. Nothing more. My mother tells me, if you have any girl friend, do let me know, otherwise I will find a bride for you. I told her, I will marry, when the time comes." 
About a bookie seen standing behind him at the famous Sai Baba shrine in Shirdi, Raina explained that there were too many people that day, and photographers were clicking.  
"When I reached home, my mother told me about the bookie standing  behind me, whom I didn't know. She asked me to stop going to shrines, and pray at home." 
Aap Ki Adalat with Suresh Raina will be telecast on India TV on Saturday (June 2) at 10 pm, and on Sunday (June 3) at 10 am and 10 pm.