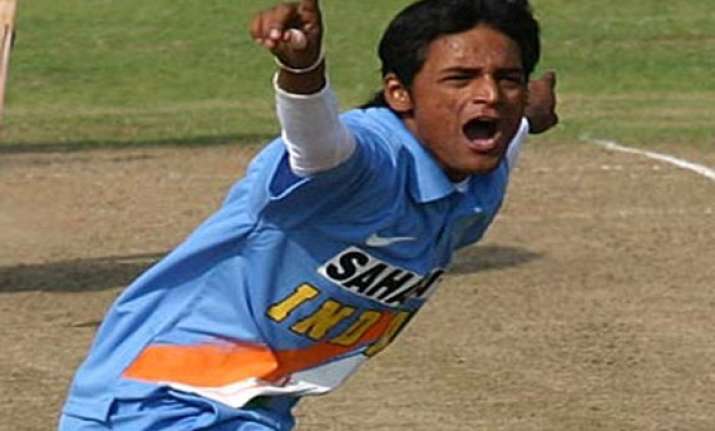 Jamshedpur: Jharkhand State Cricket Association (JSCA) has announced its state teams for the Ranji Trophy and C K Nayudu Trophy for the upcoming season beginning October 27.
While left-arm spinner Shahbaz Nadeem will lead the 15-member team in the Ranji Trophy, Keshav Kumar will lead the under-25 team for the C K Nayudu Trophy, according to a JSCA release here.      
Jharkhand, which has qualified into the elite group for the first time, will take on star-studded Delhi in the four-day Ranji Trophy opener beginning at Keenan stadium here from October 27 whereas the under-25 team will play against
Tripura from October 28.     
JSCA sources said the teams have been announced for the first two league matches.     
Jharkhand Ranji team will clash with Karnataka from November 7 while the Under-25 team will meet Chattisgarh from November 8-11. JSCA Secretary Rajesh Verma said Jharkhand Ranji team has two new faces while speedster Varun Aaron has made a come back from injury.     
Expressing confidence that Jharkhand would put up its best against Delhi, Verma said the team was in good form and Aaron's presence would certainly give a boost to the bowling side.     
Referring to the two new faces in the team, Verma said batsmen Bhawin Thakker (Mumbai) and Bhavik Thaker (Gujarat) have signed for Jharkhand and it would help further strengthen the line-up.     
Following are the teams: Ranji Trophy: Rameez Nemat, Manish Vardhan, Aakash Verma, Ishank Jaggi (Vice Capt), Saurabh Tiwary, Bhawin Thakker, Bhavik Thaker, S. P. Gautam, Shahbaz Nadeem (Capt), Sunny Gupta, Samar Quadri,  Varun Aaron, Rahul Shukla,  Ajay Yadav, S. S. Rao        
Team for C K Nayudu Trophy: Shasheem Rathaur, Vishal Singh, Keshav Kumar (Captain), Kumar Deobrat, Ajatshatru, Babul, Pappu Kumar Singh (Vice Captain), Chandan Singh, Prakash Seet,  Ashish Kumar, Jaskaran Singh, Vikash Singh, Mithun Mukherjee, Asif Fahad, Rahul Mishra.