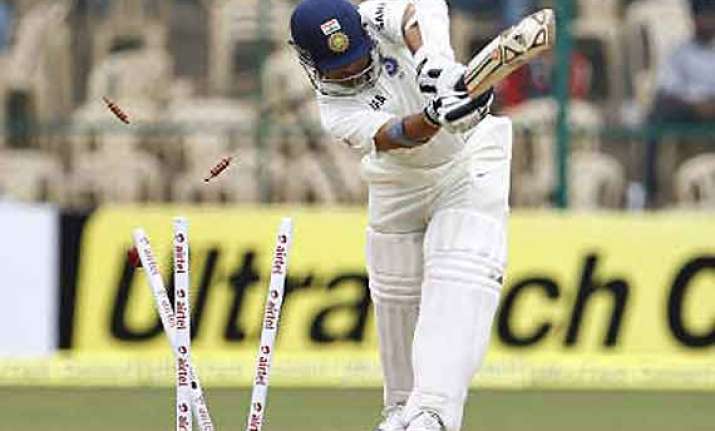 Rohtak: Sachin Tendulkar walked out to a thunderous ovation at the Chaudhary Bansi Lal Stadium for possibly his last Ranji match, but left fans disappointed as he was bowled by Mohit Sharma for five.
But never had a Ranji Trophy season started on a note like it did on Sunday, with this
sleepy hamlet here being woken up from its slumber by the one and only Sachin Tendulkar, a good few hours before the retiring legend was accorded a guard of honour in the area's sole landmark destination.    
Tendulkar, who had announced his retirement from international cricket after the Test series against the West Indies next month, is here to play in what could be his last Ranji Trophy match for his state side, the opponents being hosts Haryana.    
To mark the occasion, players from both the teams lined up on two sides at the start of the match as the champion batsman walked out to a thunderous ovation at the Chaudhary Bansi Lal Stadium, which nearly touched its maximum capacity of 8000 spectators.    
Tendulkar, who will walk into international sunset after playing in his landmark 200th Test from November 14-18 in Mumbai, has been the only talking point in the run-up to this game, which is being seen by many as his last in the premier domestic tournament.    
At lunch, after Mumbai bowled out Haryana for a paltry 134, Tendulkar received a memento from state CM Bhupinder Singh Hooda with former BCCI president Ranbir Singh Mahendra also in attendance.    
The excitement among the locals reached a crescendo when Tendulkar walked out with his most favourite and destructive weapon after Mumbai lost their second wicket in reply to Haryana's first innings total.
The occasion also saw a few players of the Haryana side, which triumphed in the 1991 final over Mumbai under the legendary Kapil Dev's captaincy, reunite.    
With Dev attending the event, it seemed the strained relationship he has had with the Haryana Cricket Association, has been buried.    
Also present was former India pacer Chetan Sharma, while another surviving member of that 1991 final squad and presently a cricket expert, Ajay Jadeja, led the current Haryana side after having made a comeback to competitive cricket following a hiatus of more than seven years.    
The small town had been waiting with bated breath for the match and the excitement was palpable as one made his way through to the stadium via the old town.    
The Canal Guest House, where Tendulkar was being put up, was the centre of all the attention as fans tip-toed across the state irrigation department's facility since the crack of dawn