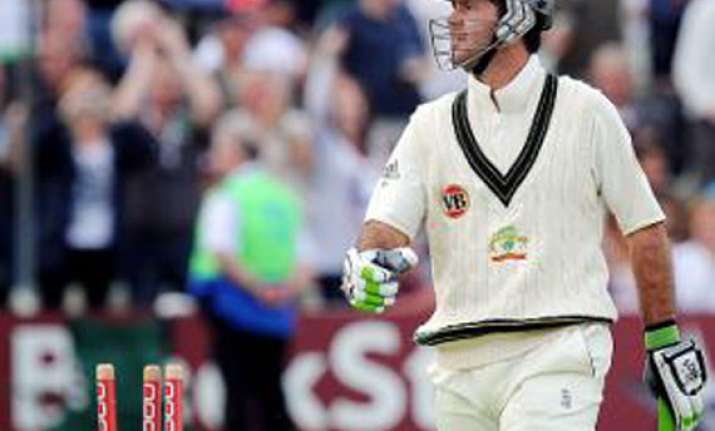 Perth, Nov 29:  Ricky Ponting, one of the finest batsmen in contemporary cricket and Australia's middle order bulwark for years, today announced his retirement from international cricket, bringing down the curtains on an illustrious career spanning 17 years.
Ponting, who will retire after the third Test against South Africa beginning here tomorrow, told a hastily-called press conference that he was calling it quits as he has not being performing for some time to the level he had desired.
The former Australian captain, who will turn 38 next month, has scored 13,366 Test runs from 167 matches at an average of 52.21, second only to India's Sachin Tendulkar (15562 from 192 matches). He made his Test debut in 1995 against Sri Lanka at the same venue where he will walk into Test sunset.
In the 375 ODIs he has played, Ponting accumulated 13,704 runs, scoring 30 centuries, with a highest score of 164 and an average of 42.03. He has, however, not played in the ODIs since being dropped from the team in February this year.
Ponting said he was retiring as his level of performance was not good enough to continue in the Australian team.
"It's a decision I thought long and hard about, put in long consideration about the decision. Over the last couple of weeks my level of performance hasn't been good enough. At the end of the day it was about my results and my output in this series so far," Ponting said.
"It hasn't been to the level required for batsmen and players in the Australian team. I've given cricket my all. I haven't been performing consistently over the last 12-18 months. I believe now is the right time to be making this decision," said an emotional Ponting with the entire Australian squad by his side at the press conference.
Nicknamed 'Punter' by Shane Warne for his penchant for a bet (punt) on the greyhounds, Ponting has scored 41 centuries, third in the all-time list behind Tendulkar (51) and South African Jacques Kallis (44).