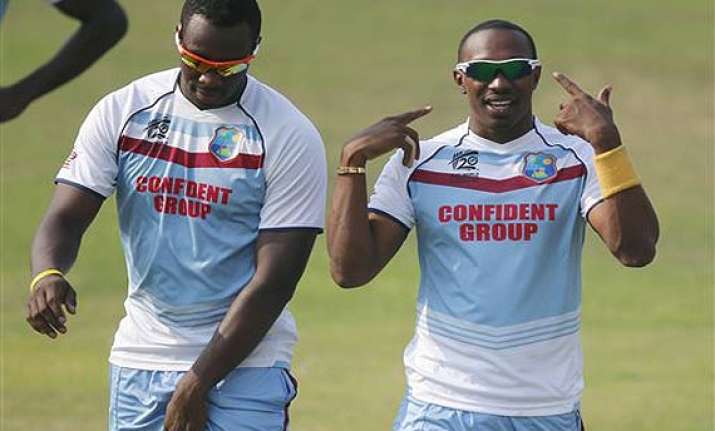 Mirpur:  Emphasising that cricketers have certain responsibilities towards their fans, especially the youth, West Indies all-rounder Dwayne Bravo has advocated playing a sledging-free game.
A James Faulkner's poor-in-taste jibe directed towards them pumped up the West Indians and the Caribbean team came out all guns blazing to topple the Australians en route to the semifinals.
The victory was an apt answer to Faulkner's retort that he 'does not like West Indians'.     
A philosophical Bravo, who contributed in West Indies' win over Australia, said cricketers are looked as idol, so they must behave in a proper manner on and off the field.     
"We are all human beings. We play this game and we should respect each other. We are soon going to finish but cricket is going to go on. It's important that we leave our legacy as players, not only as West Indian players but as cricketers. We have young kids looking up to us, so I do not see any sense in trying to sledge the opposition," Bravo said in a pragmatic tone referring Faulkner's comment.     
Talk about their toned down celebrations after Pakistan match compared to their win against Australia, team's No 1 all-rounder said, "Australia game was a bit heated for us and I'm sure you know why. That was a very important game for us.
We wanted to prove to ourselves and prove a point to the Australians that at the end of the day, we are all cricketers."     
With a typical Calypso flavour in his answers, Bravo said in a content tone that no team should try to upset them.     
"West Indies is a team that you should try not to upset. We don't step on anyone. We play hard, we play with a smile on our face. We compete fairly and whether we win or lose, it does not matter as long as we have a good game. TheAustralians, they just deserve what they got."     
For him, treating the 'game with respect' is paramount and equally important is to entertain the fans and give them their money's worth.     
"By nature, we are all laid back individuals. We all enjoy this game. As long as we enjoy, we perform better. We play for the fans. They are the ones we come out to entertain,so it's important, we always have a smile on our face and play with a lot of passion.
All West Indians are like that, we just want to entertain our fans."