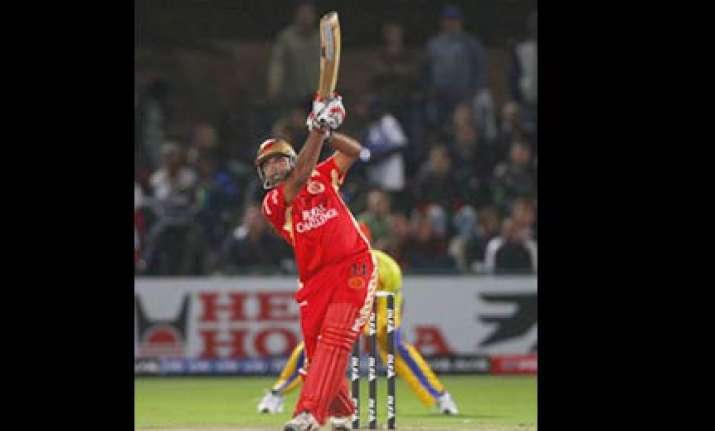 Vinay Kumar took four wickets as Royal Challengers Bangalore beat Chennai Super Kings by 36 runs in their IPL clash at M Chinnaswamy Stadium in Bangalore on Tuesday.
 This is Bangalore's third successive victory at home.
Vinay's fourth wicket came when he clean bowled Albie Morkel (19) in the last over of the Bangalore innings.
Vinay took his third wicket when he had Subramaniam Badrinath caught at fine leg to reduce Chennai Super Kings to 107/6.
Badrinath hit a six and 5 fours in his 31-run knock that came off 17 balls.
Bangalore captain Anil Kumble had Murali Vijay caught by Eoin Morgan at deep mid-wicket to reduce Chennai to 74/5.
Vijay's dismissal came after R Vinay Kumar took his second wicket when he had Chennai Super Kings captain Suresh Raina (9) caught by Jacques Kallis at third man.
Chennai lost their way when Matthew Hayden and George Bailey were dismissed in the same over.
Rahul Dravid ran out Hayden with a direct hit and two balls later Vinay had Bailey caught behind to reduce Chennai to 59/3.
Hayden was looking dangerous as he had hit Jacques Kallis for three consecutive fours with his Mongoose bat. Dravid's direct hit meant that Hayden departed after a 28-ball 32 that came with the help of 5 fours.
 Chennai got off to a poor start as Praveen Kumar had Parthiv Patel caught behind by Mark Boucher in the first over.
Earlier, Robin Uthappa smashed 68 runs off 38 balls as Royal Challengers Bangalore scored 171/5.
Uthappa hit a four and three consecutive sixes in the penultimate over bowled by Lakshmipathy Balaji.
Uthappa, who was dropped when he was on 5 and 25, top scored for his team smashing 6 sixes and 3 fours in his blitzkrieg knock.
Muttiah Muralitharan took three wickets but Chennai could not stop the Uthappa onslaught.
Bangalore lost their fourth wicket when Eoin Morgan was clean bowled by Albie Morkel
Muralitharan took his third wicket when he had Virat Kohli stumped by Parthiv Patel to reduce Royal Challengers Bangalore to 110/4.
Kohli hit a six and two fours in his 16-ball 24 before falling to Murali.
With some good running between the wickets coupled with big hits, Robin Uthappa and Kohli brought up Bangalore's 100 in the 15th over.
Their 47-run partnership came after Muralitharan dismissed Rahul Dravid and Manish Pandey in successive overs to reduce Royal Challengers Bangalore to 63/3.
Murali got his second wicket when his captain Suresh Raina took a superb catch running backwards from short mid-wicket to mid-on. Pandey hit two fours in his 28-ball 20.
In his previous over, Murali clean bowled Rahul Dravid (14) as Royal Challengers Bangalore lost their second wicket in the eighth over.
Dravid hit two fours in his 11-ball 14.
Jacques Kallis lost his wicket for the first time in IPL 3 when Balaji clean bowled him from behind his legs
Kallis hit 4 fours in his 17-ball 19 after Chennai Super Kings captain Suresh Raina won the toss and elected to bowl.