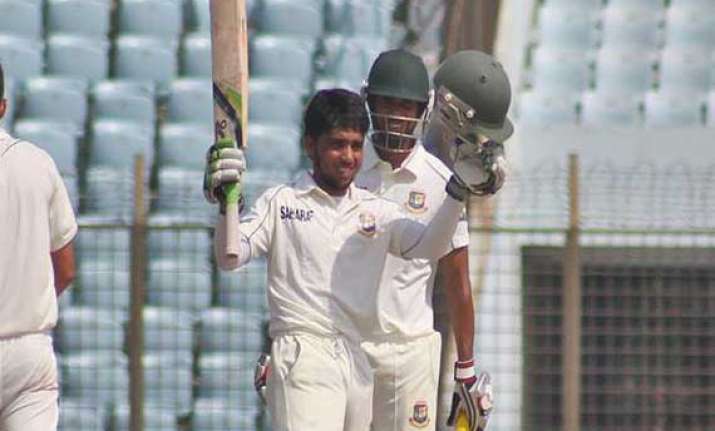 Mirpur, Bangladesh: Rain played spoilsport as 2nd test between Bangladesh and New Zealand washed out the last day, leaving the series with no result. The test was poised for an interesting Friday but now Bangladesh will have to wait longer for its first test win over the Kiwis.
The match and series were probably going to be drawn anyway before rain interfered, but the match was set up for a compelling finish.   
Bangladesh's second-innings fight back was stuck on the overnight score of 269-3 and a lead of 114. Mominul Haque was stranded on 126 not out, his second century of the series, which earned him the honors of man of the match and series.   
Bangladesh planned to declare around lunchtime and  tempt the Kiwis with a chance at victory and try to force a New Zealand collapse. But both teams were thwarted by the rain which began overnight,   
Bangladesh scored 282 in its first innings and New Zealand 437.   
The first of three one-day internationals is on Tuesday at Dhaka:
Bangladesh 1st Innings: 282
New Zealand 1st Innings:437
Bangladesh 2nd Innings
(overnight 269-3)   
Tamim Iqbal c Taylor b Williamson 70
Anamul Haque c Fulton b Wagner 22
Marshall Ayub c Taylor b Wagner 9
Mominul Haque not out 126
Shakib Al Hasan not out 32
Extras: (8b, 1lb, 1nb) 10
TOTAL: (for 3 wickets) 269
Overs: 89.
Did not bat: Mushfiqur Rahim, Nasir Hossain, Sohag Gazi, Abdur Razzak, Al-Amin Hossain, Rubel Hossain.
Fall of wickets: 1-39, 2-55, 3-212.
Bowling:
Trent Boult
16-2-62-0, Doug Bracewell 14-2-47-0 (1nb), Neil Wagner 18-4-52-2,
Ish Sodhi
14-2-37-0, Corey Anderson 9-2-18-0,
Kane Williamson
18-4-44-1.
 Result: Draw
 Series: Draw