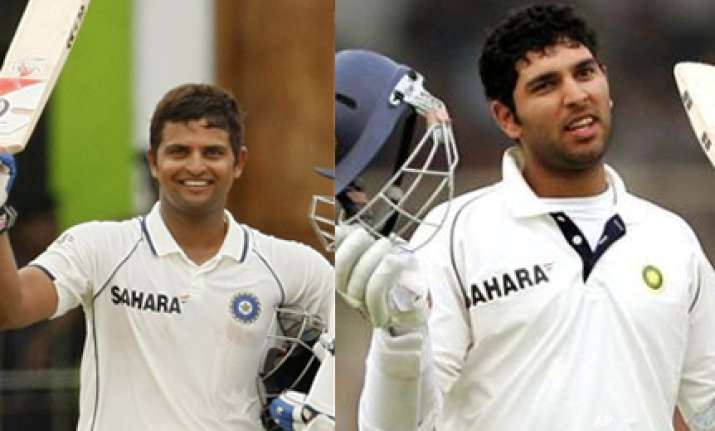 Colombo: India skipper Mahendra Singh Dhoni on Monday  refused to reveal whether Suresh Raina will retain his place in team for the third Test, starting Tuesday or will make way for fit-again Yuvraj Singh. Raina made a sensational debut in the second Test by scoring a century and the kind of form he is in, the team management would not like to drop the diminutive southpaw.  
But Raina earned his first Test cap because of an indisposed Yuvraj, who is now fit to play. Asked who will get the nod, Dhoni chose to keep the cards close to his chest.
"That's a difficult one. You (reporters) have a half-an-hour serial to run today and tomorrow. So I will protect the decision till tomorrow morning," he said at the pre-match press conference. India are in a must-win situation in the third Test having lost the first match and Dhoni said they will have to play out of their skin to salvage the series.  
"We are 1-0 down so the best we can do is level this series. It will be a big challenge. We have to maintain whatever momentum we got from the second Test. We have to see that the result of the Test is in our favour," Dhoni said.
"We will have to be the team that takes the extra initiative because even if the third Test ends in a draw Sri Lanka win the series. We have to be careful about how aggressive we can get but at the same time you have to see what's the best you can do in this Test match," he added. Talking about the P Sara Oval wicket, the India stumper said the pitch would favour the pacers early on and will also help the spinners as the match progresses.  
"There is a bit of grass on the wicket but it's not green. It looked very different yesterday from what it is now. There may be bit of bounce. We thought the same about the pitch at SSC, but there was nothing for the fast bowlers.
"We are hoping because the stands are a bit low, there will be a bit of breeze blowing, which may be in the favor of the fast bowlers. But I think that as the game progresses, the spinners might get some bounce with turn," he said. PTI