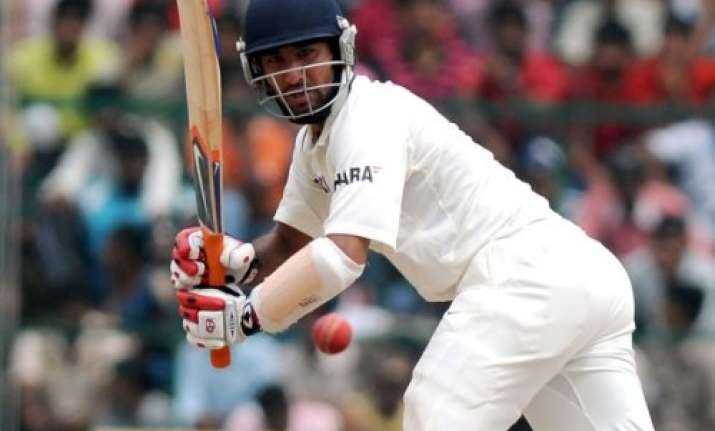 Adelaide: He claims to have corrected the technical glitch which affected his performance during the forgettable tour of England earlier this year and Indian batsman Cheteshwar Pujara is confident that his scoring touch will return in the upcoming Test series against Australia here.
Speaking to the media ahead of the opening Test starting December 9 here, Pujara said the poor run he endured in the Test series against England this past summer was a blip.
"As a player, I feel there are always some tough times in your career. And England tour was one of those series," he said.
"You learn from your failures and failures have taught me so many things. When you are successful you don't worry about your game or your mental strength. So when you fail, naturally there are questions asked and that's the time to grow up as a cricketer and handle that pressure.
"Overall I have done well wherever I have played and England was just a blip in that respect. It was just one of those tours where nothing went my way. As a team also we didn't do very well there. Overall we have done well as a unit in the last one year travelling overseas and we are hopeful that we will do well on this upcoming tour as well," he added.
Pujara had made his Test debut against Australia in 2010-11 home series, but couldn't hold on to a permanent spot in the team due to an injury and the selection merry-go-round.
He made a comeback in the 2012-13 home season and made the number three spot his own after the retirement of Rahul Dravid. In 10 Tests, he scored four hundreds, including two double hundreds as New Zealand, England and Australia got a taste of his prowess.
He continued the good work in South Africa as Team India began its overseas tours in December 2013. But New Zealand was where his form waned off a bit and he disappointed with his shot selection during the two-match Test series, averaging only 15.
The England trip then compounded his misery where he scored at only 22.20 in five Tests as India lost 3-1.
"I have analysed my batting over the last two overseas tours. In England I realised a few things what I was doing wrong and needed to work on. I tried correcting that but it didn't work.