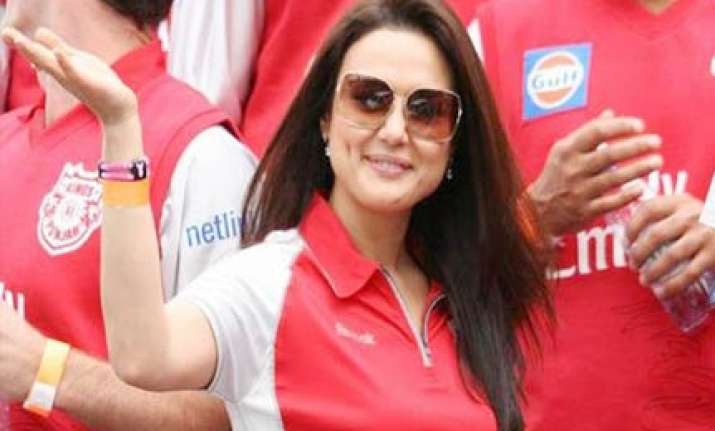 Bollywood actor Preity Zinta says she is concentrating on cricket for now and trying to ensure that her team Kings XI Punjab comes out in flying colours in the third edition of IPL.
" I tell my team that I work as hard as they do. Just that they do it on the field, and I do off it….I'm not going to Mumbai. I'll be with my team."
She, however, was quick to add, "I'm not a superwoman. I can't act, run a cricket team and take care of other things at the same time. I'll be filming only after IPL. "
Her team's drubbing at the hands of the Delhi boys in their opening match on Saturday hardly bothers the actress.
"Next time and next game... 13 more games to go! Delhi played better today! It was their day!" she posted on Twitter after the match.
Like last season, this year too Preity is ready to pull all stops to boost her team's morale -- from dressing room peptalk to serving them aaloo paranthas. "Yes, I'll do it all.
Last season, Ravi Bopara asked me `what will you give us if we win', I said anything.
He said, `I want aaloo paranthas'. We won and I made 50- 60 paranthas for the team. It was fun." What about the free hugs to her teammates that sparked stories of link ups with Yuvraaj Singh and Brett Lee? "If I can stand before a billion people and say what I am, I don't care about what some of them say."