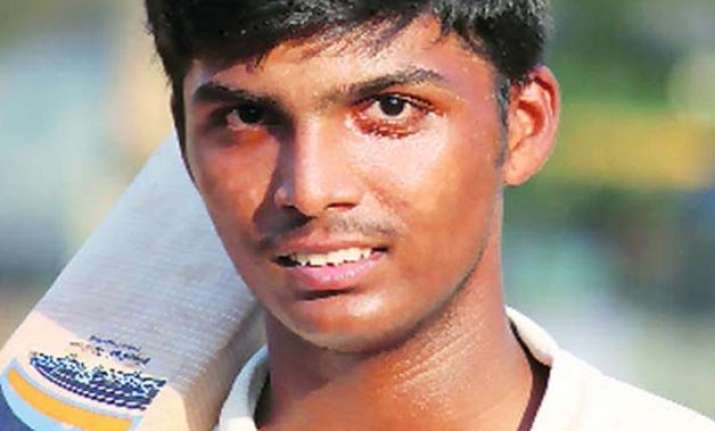 Mumbai: Mumbai school cricketer Pranav Dhanawade has become the first cricketer in the world to score 1000 runs in a single innings.The prodigy acheived the inevitable feat in just 323 balls. This is the highest individual score in any class of cricket.
Pranav's world record knock finally ended with unbeaten 1009 runs in just 323 balls he faced during his 395-minute at the crease with the strike rate of 312.38 and included 129 fours and 59 sixes.
Mumbai school cricketer shatters 117-yr-old record with an unbeaten 921
Mumbai school cricketer Pranav Dhanawade has made it into the record books after he slammed a humongous 921 runs off 294 balls in an inter-school cricket tournament.
Dhanwade on Monday knocked a staggering 652 off 199 breaking the century old record of Arthur Collins.
Collins had scored 628 not out in a Junior House Match in June, 1899 in England.
The 15 year old's record-breaking feat propelled his team to a mammoth 956/1 on first day of the two-day school league and two of his teammates — Akash Singh and Siddhesh Patil — also scored tons.
But Dhanawade was not done. He continued to lead the charge for his side and when he reached 804 not out, KC Gandhi reached 1148/2. That was by far the highest team score. They had surpassed Victoria's 1107 against New South Wales back in in 1926.
Representing KC Gandhi School, Kalyan, Dhanawade smashed Arya Gurukul School bowlers all over the park to surpass Arthur Collins' score of 628.
The Maharashtra Government has announced that it will take care of Dhanwade's study and coaching expenses.
Son of an autorickshaw driver, Pranav has been playing cricket since he was five under the tutelage of coach Mobin Sheikhr.
Former cricketer Chetan Sharma told India TV that budding cricketers from Mumbai are doing really well, the teenager has broken entury old record and that is commendable.
The teenager has said on Monday that he will try to score 1000 runs next day, "I am confident that I can do it. I will definitely try to score 1,000 runs as I am just 350 away. If I can score 600 runs in two sessions, I am confident of scoring 350 in one session," he said..
"I want my son to become a great cricketer. He has proved that he has the talent today. Cricket is not an easy sport and expensive too. I spent extra hours driving an autorickshaw in order to afford the cricket gear for my son," Prashant told The Indian Express.
Insisting that the opposition bowling was 'good', he said thoughts of the record never entered his mind until he breached the 400 mark. "That's when I thought it was possible," he told Times of India.