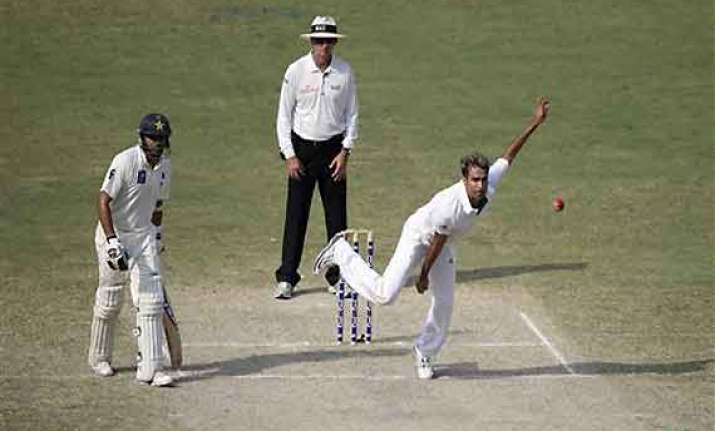 Cape Town, South Africa: The Pakistan Cricket Board is in early talks with its South African counterpart over a short return series immediately after the teams' current contest in the United Arab Emirates, a PCB official said on Monday.
A hastily-arranged Pakistan tour, likely starting in late November, would help South Africa fill the gaps in its home calendar after India demanded its end-of-year trip was shortened, denying South African fans and Cricket South Africa the initially planned three tests, seven one-day internationals and two Twenty20 games.
India will now visit top-ranked test team South Africa for just two tests and three one-day internationals, probably in December although the exact dates of its re-scheduled tour have not yet been announced.
PCB spokesman Nadeem Sarwar told The Associated Press that talks were at a "very initial stage" over Pakistan now touring for not more than two weeks and making use of the gap the Pakistanis have in their schedule ahead of a series against Sri Lanka starting on Dec. 11.
Cricket South Africa confirmed in email correspondence that it was "exploring alternatives" to make up for the lost games against India.
"We are not in a position to make any official announcements yet but hope to do so in the near future," CSA said.
India's rejection of CSA's planned itinerary further soured relations between those two cricket boards, once close friends. The rejected schedule was seen as India's way of making clear its displeasure with CSA for appointing Haroon Lorgat as its chief executive, a former International Cricket Council boss who had a history of run-ins with the Board of Control for Cricket in India.
India's decision to curtail its tour means CSA will only host five international games instead of 12 on that tour and incur significant financial losses, which it wants to offset with another short series.
South Africa and Pakistan drew their recent test series 1-1 in U.A.E. and will play five ODIs and two T20 games from Wednesday. The countries also met in a series in South Africa at the start of the year.