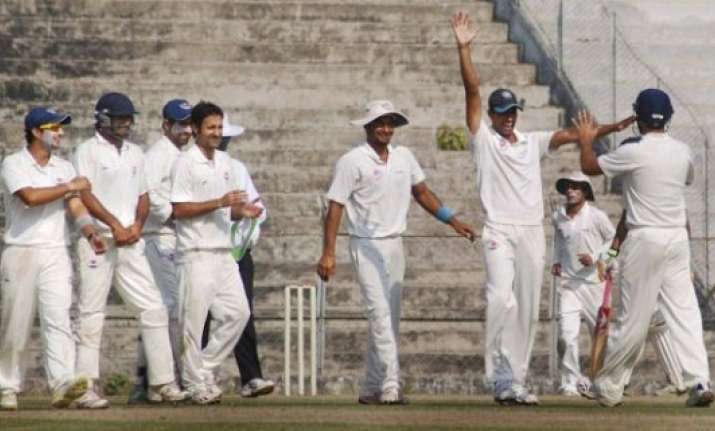 Srinagar: Jammu and Kashmir Chief Minister Omar Abdullah today congratulated the state cricket team for its historic win over 40-time Ranji champions Mumbai in a Group A match here.
"This is a shot in the arm for every proud citizen of Jammu and Kashmir and reflects how the youth of this State are no less in talent and might than their counterparts anywhere else.
 
"I, as a Kashmiri, feel very proud at this achievement and congratulate the youth of this State for this achievement," Omar said in a statement.
Jammu and Kashmir cricket team recorded its biggest win in first-class cricket by defeating Mumbai by four wickets.
Omar said the victory was for the glory and bright future of the state.
"Besides the victorious team which we are very proud of, every youngster of our State deserves special congratulations - this is for Jammu and Kashmir, its glory and its bright dignified future," Omar said.
"This historic victory today will go a long way in inspiring the youth of J&K to reach for new frontiers and to conquer new heights," he added.
Omar expressed hope that the win on cricket field will inspire more youth to prove their mettle in other sports and academics.
"I am sure that in the years to come the youth of J&K will continue to prove their mettle in every single field of sport, in academics and in their spirit to construct a Naya Kashmir after we have suffered unimaginable losses due to the devastating floods," Omar added.
The chief minister had earlier written on twitter: "Well done to the J&K cricket team, beat Mumbai at the Wankhede stadium."
Omar's followers on the social networking site had differing views on the hill state's victory over Mumbai.
"Well; they had already beaten Mumbai in election Turnout. Aba ye bhi (now this too)!!" wrote Yashwant Deshmukh.
Deshmukh was responding to Rahul Pandey who termed the result as "crazy day".
"Crazy day! Jammu and Kashmir beat Mumbai in Ranji," Pandey had commented on the biggest upset in domestic cricket.
Rit Chandra, another follower of the Chief Minister, highlighted the statistical side of the result that is sure going to lead to calls for more focus on the game in Jammu and Kashmir.
"Mumbai have lost for only the 23rd time in 465 games in 81 years of the Ranji Trophy! J&K just the 12th team to beat Mumbai," Chandra said.