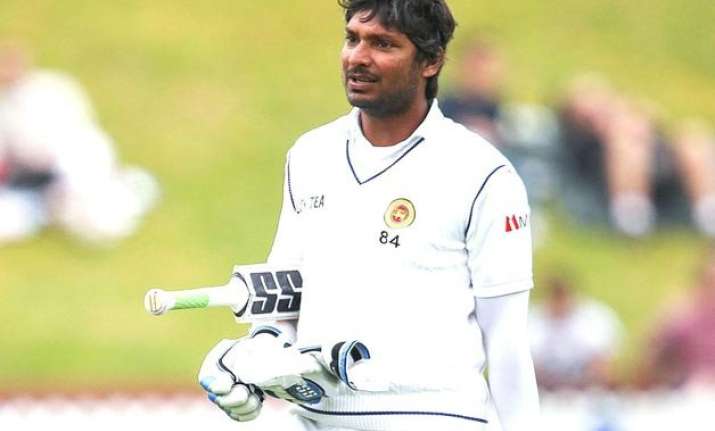 Wellington, New Zealand: The contentious dismissal of Kumar Sangakkara on Wednesday's final day of the second test thrust New Zealand closer to a win over Sri Lanka and a 2-0 series whitewash.
Chasing an unlikely 390 for victory, Sri Lanka went to lunch at 110-5, having also lost nightwatchman Dhammika Prasad (6) to the 10th ball of the day, Kaushal Silva for a grafting 50 and captain Angelo Mathews just before lunch.
Sangakkara, who made 203 in the first innings, loomed as the man most likely to frustrate New Zealand's victory push but fell for just five, cutting at a wide delivery from Trent Boult which passed under the bat on its way to wicketkeeper B.J. Watling.
There was no appeal from Watling or other players behind the wicket, but Boult made a half-hearted appeal that was turned down by the field umpire. New Zealand captain Brendon McCullum referred the decision to the television umpire.
Several studies were watched but the Hot Spot imaging technology did not register any contact between ball and the bottom edge of Sangakkara's bat.
But the Snicko audio technology revealed the faintest of noises as the bat passed over the top of ball and that was enough to overturn the field umpire's call and to dismiss Sangakkara, who was clearly angry as he left the field.
Prasad's dismissal was emphatic. He flashed at a wide delivery from Boult and was brilliantly caught at second slip by Jimmy Neesham, who snatched the ball out of the air above his head.
Silva battled throughout the morning to reach his seventh half century in tests in 174 minutes but he fell within 15 minutes of lunch to a slip catch by Mark Craig.
New Zealand's slip and gully fielding throughout the series has been outstanding, never moreso than when Kane Williamson caught Angelo Mathews from the last ball before lunch. Williamson dived, lost the ball in the air but juggled and reclaimed before hitting the ground.