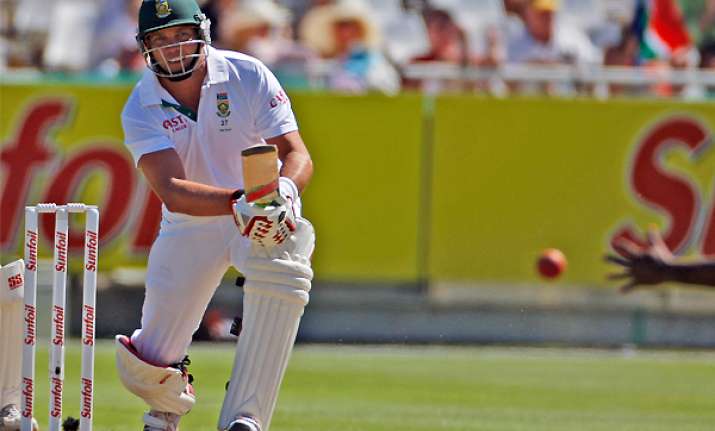 Cape Town, Jan 4: There's no better place to recover from a first test "pair" for Jacques Kallis than at home at Newlands.

Less than a week after a return of 0 and 0 in South Africa's slump against Sri Lanka in Durban, Kallis celebrated his 150th test at his beloved Cape Town stadium on Tuesday with an unbeaten 159 on the first day of the series-deciding third match.

Saying Kallis is comfortable at his home ground — where he went to school little more than a big six away — is an understatement along the same lines as noting Sachin Tendulkar is well-received in Mumbai.

The records say it better: Kallis now has nine test centuries at Newlands, where his 2,033 runs in 20 matches is second on the list of best scoring at one venue behind only Mahela Jayawardene's prodigious 2,697 in 24 tests at Sinhalese Sports Club in Colombo.

Kallis averages over 78 at the ground in the shadow of Table Mountain and has just one Newlands test duck. That only came in his last test here before Tuesday, against Australia in November.

Now 36, Kallis has his highest test score at Newlands of 161 and his highest career score of 201 not out in his sights in front of adoring fans come Wednesday and — like India's little master Tendulkar — has made it clear with his perennial run-scoring that there's no reason to think about retiring yet.

Alviro Petersen, who made a hundred alongside Kallis, said the veteran played as well as he always has for South Africa, while captain Graeme Smith picked him out this week as still crucial to the team ahead of tours to top-ranked England and Australia in 2012. This is Kallis' 17th season in international cricket.

"Jacques' career statistics speak for themselves," Cricket South Africa chief executive Gerald Majola said in a tribute at the start of Kallis' 150th test. "He is unquestionably one of the greatest players ever to play this great game.

"(He) still has a great deal to offer the Proteas squad and we look forward to celebrating the remainder of an outstanding career."

There wasn't a chance to hear Kallis' thoughts as he stayed true to his superstition of not speaking to the media whilst still not out overnight.

He's comfortable at Newlands, yes, but not complacent enough to risk another major milestone like a first double hundred at his home.