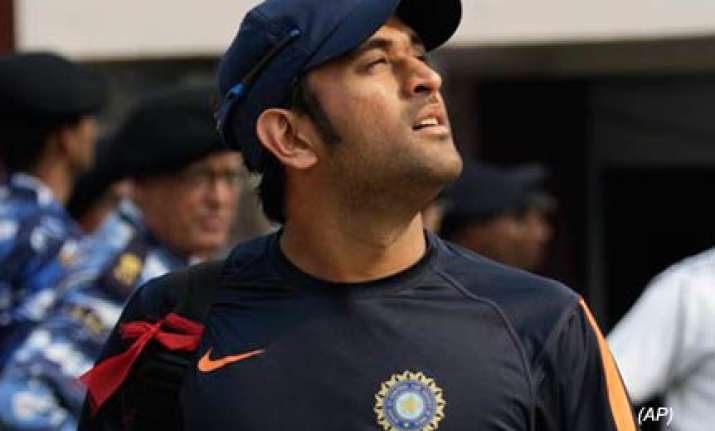 Dambulla : Indian captain Mahendra Singh Dhoni on Saturday conceded that the no-ball controversy in the last tri-series match against Sri Lanka has turned his players into a more aggressive lot but the team will take care not to cross the line.
"That no ball incident really push us up to be more aggressive. But there is a limit to be aggressive on the field. We don't really want to cross that boundary though we will be as aggressive as possible on the field," Dhoni told reporters ahead of India's penultimate league match against Sri Lanka here tomorrow.
"Of course, whatever happened was bad. It is better off to just ignore the incident. It is important to be focused and that is what we will do on the field. We will just forget what happened in the last game and hope we come out winners in the next game," he said when asked whether the incident will change the course of India's rivalry with Sri Lanka.
Dashing batsman Yuvraj Singh had to sit out of the controversial match on August 16 because of dengue but Dhoni said all the players are available for tomorrow's match.
"Everyone is available. There is no issue about fitness as of now. Hopefully, the whole squad will be available for tomorrow's selection," he said clearing the air on Yuvraj's availability.
The Indian captain said it was at times difficult for the players to concentrate on the game because of the weather conditions here but they will have to maintain focus all the time.
"When you get up in the morning you have to be prepared for the game irrespective of the weather condition because all of a sudden you may find yourself in a position where you are not really  prepared for the game and the game happens. It may be a 20 overs game. So it is important to be focused and do whatever you can to be prepared for the game.
"If the game doesn't happen, it doesn't happen. It is important to be spot on throughout and it goes on for two days because you have a reserve day at the same time. So we will be prepared for it and we will just hope the game happens tomorrow," he said.
Dhoni was happy about the schedule of the tournament and said the players got enough time to rest in between matches which they have not got for a long time.
"In a way it is good for us. We have played throughout the year and hardly get opportunity to get some time off. This was one of those tournaments where we got time between our games and this is my fourth visit to Sri Lanka and frankly speaking I have never been out of the hotel," Dhoni said.
"So this gave me time to see what Sri Lanka is all about. Of course, it breaks the momentum a bit. But till now it has been good for us. Whenever we have turned up the intensity has been good on the field. It has helped us so far," Dhoni said.
Dhoni said under the circumstances with weather playing a factor, the bonus point India got against Sri Lanka in their last game could come in handy.
"Of course, at the end of the qualifying stage before the finals it (bonus point) may prove a crucial point. We exactly have to see what really happens from now on. Whether we get to play the next game or not after that we have one more game. So that is also a plus point for us. We have got two more games before the finals. If there is one more washed out game the bonus point could have a bearing on the tournament," he said.
 Dhoni defended
Virat Kohli
and
Rohit Sharma
who have scored in single digits in India's two matches in the tournament so far.
"I am not worried too much about it. They have done well for us. Especially if you see in these conditions we have batted in the lights. It is difficult for the top order batsmen to score consistently.
"But at the same time it is important that if a batsman gets set then he should carry through which will really help the rest of the batsmen coming in. Whoever plays a few deliveries and scores 20 or 30 odd runs they should look to make it big. Sehwag played really well in the last game," said Dhoni.
He was all praise for the bowlers who have done a decent job so far in the tournament.
"I think the conditions there are in favour of seamers initially. Even if you bowl first there is a bit of swing movement if not too much of seam movement. I think they have capitalised on that. If you make the batsmen play most of the deliveries with the new ball there are very good chances that you may get a couple of wickets at least if not more. So we are banking on that.
'In the last game it was really good to see that we did not bowl short of length and the shorter deliveries were the ones which were used as bouncers. And apart from that even the spinners did not give any room to the batsmen. Overall quite happy with the placement of the deliveries where they are bowling and not giving much room to the batsmen," he said. PTI