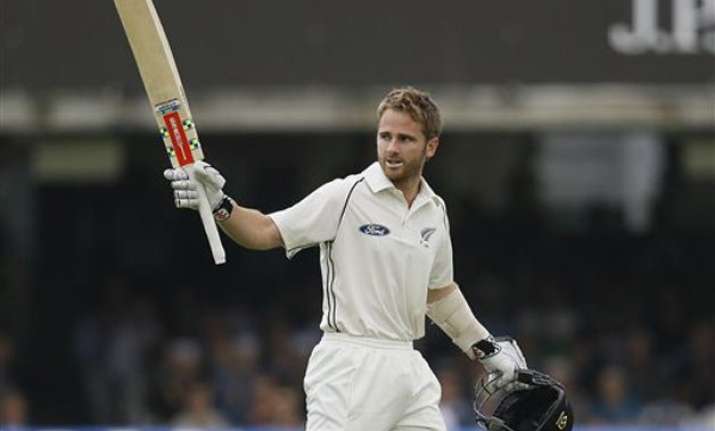 London: New Zealand took an 18-run lead in the first innings against England on a third morning when the host side claimed two wickets and was unlucky not to get more in the first test at Lord's on Saturday.
New Zealand was 407-4 when lunch was taken a few minutes early because of rain.
The Kiwis added 104 runs in 23.4 overs, the run rate still entertaining thanks to captain Brendon McCullum's 42-run cameo.
England also dismissed Ross Taylor for 62, but couldn't make more headway despite swinging the second new ball under the cover of clouds. Stuart Broad took his second wicket of the match, and Mark Wood his first wicket on debut.
Kane Williamson was 112 not out but slowed down. Allrounder Corey Anderson was with him on 4.
New Zealand resumed on 303-2 and used the three overs before the new ball was offered to complete milestones.
Williamson guided the ball to third man, earned three singles and his 10th test century. It arrived from 148 balls, and included a dozen boundaries.
The next ball, Taylor reached his 50 with a single to square leg. Struggling for form, he'd taken three hours but in conditions he liked. It was his third half-century in three consecutive tests against England in England.
When the hosts took the new ball, Taylor hit the first delivery to the boundary at point, but that was the exception as England's fast men produced swing as cloud came over enough for the floodlights to be turned on.
Broad, especially, and James Anderson, were drawing the batsmen forward and making them play at shots that were seaming away.
Almost inevitably, for someone who has been trying to scramble runs for three months, Taylor was dismissed. He tried to fend a Broad delivery down the leg side but gloved it, and Jos Buttler took an acrobatic catch.
That ended the partnership that extended New Zealand's dominance after the openers both fell on 148 the day before. Taylor and Williamson shared 189, the second best stand of their 38 test partnerships.
McCullum came in and, first ball, hit Broad through extra cover to the boundary. McCullum lifted the energy in the middle, typically looking to play every ball. And he got away with a lot.
His fifth boundary tied New Zealand's total with England's, his sixth brought up New Zealand's 400. His luck ran out on 42 off 38 balls, when he top-edged a length ball. It flew over him, and Root took a running catch at third man near the boundary. It was a knock that was fun but felt wasted, with the Kiwis trying to build a lead so big they have to bat only once.
Williamson scored only six in their partnership of 66, as he backed off in the face of England's good bowling. An edge off Anderson was dropped in front of first slip, and just before lunch Williamson survived a video review when given not out lbw, when the ball was pitching on leg stump.