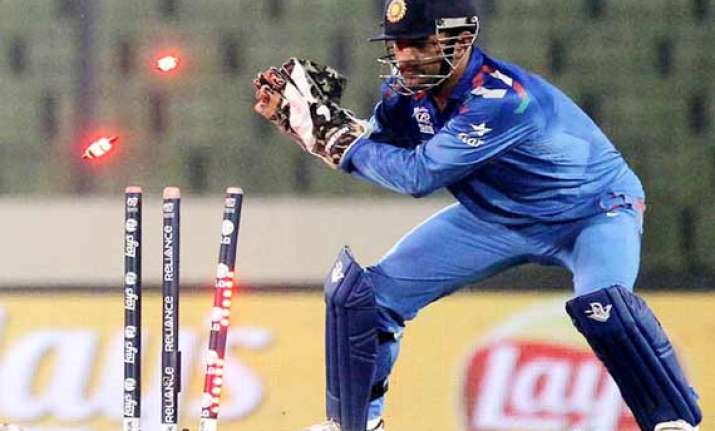 New Delhi: Indian skipper and wicketkeeper batsman Mahendra Singh Dhoni is on his way to another world record in international cricket. Team India will face England in third ODI at Trent Bridge on Friday, 30th August and Dhoni could register another world record in his name.
In the second ODI, he equals Kumar Sangakkara's record of most stumpings in international cricket which is 129 in 563 matches including tests, ODIs and T20Is. Dhoni achieved this feat only in his 381st international match against England by dismissing Chris Woakes.
He has a real chance to beat this world record when he comes out to play at Trent Bridge, Nottingham. However there are three more matches left in the series and Dhoni may take his stumping tally much higher and create a new world record.
MS Dhoni
and Kumar Sangakkara are followed by Romesh Kaluwitharna of Sri Lanka with 101 stumpings, Moin Khan of Pakistan with 93 and Adam Gilchrist of Australia with 92 stumpings.
Besides this, he also holds the record of most dismissals jointly with Adam Gilchrist, Ridley Jacobs and 10 others in an innings of an ODI match with 6 dismissals including 5 catches and a stumping against England in 2007.
Dhoni is the 5th ranked wicketkeeper in most catches in international career with 492 catches in 381 matches. He also ranks 5th in the most dismissals in a career by any wicketkeeper with 621 dismissals closely succeeded by Ian Healy of Australia with 628 and Kumar Sangakkara with 642.