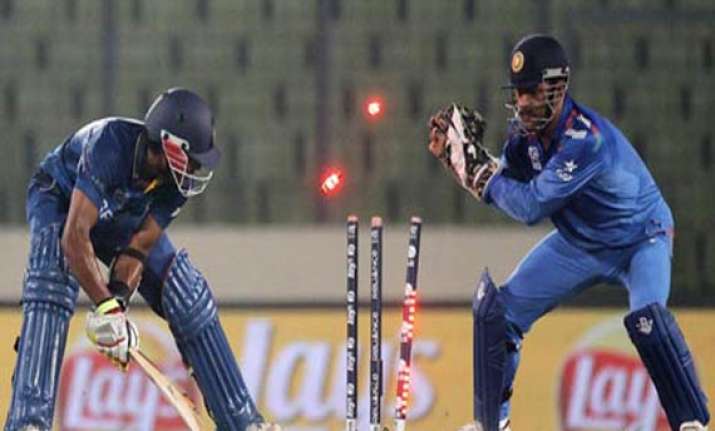 Mirpur: He is as possessive about his invention as much he is about his children but Bronte EcKermann would not mind giving Mahendra Singh Dhoni a souvenir LED stump if India lift the World Twenty20 trophy.
"Well, this is a very costly system. The entire set-up during a match costs USD 40,000 (Rs 25 Lakh approx), so I don't allow the players to uproot it during any celebrations.  But I know Dhoni loves keeping a souvenir stump. If India can win the final, I might get into some arrangement with Dhoni," EcKermann, the inventor of 'LED stumps', told PTI during an interaction here today.
EcKermann has got 32 stumps and 40 bails for the tournament and each bail costs as much as an iPhone. He will take all the equipment back, once the tournament is over. The qualified Industrial designer has also got the LED stump patented.
"The idea was to make it touch friendly. The light might not glow if someone tries to hit with a hammer but if the wicketkeeper touches the bail with ball in his gloves and even a feather touches, it would. It would make the decisions easier for the third umpire as to what exactly was impact when bail was dislodged from the stumps."
Asked about how much time it took to give his dream shape, Eckermann said, "It took around three years to turn my dream into a reality. I conceived the idea when I saw my little daughter play with a ball that would light up whenever she bounced the ball. Then it struck about how if I could create a system which would make cricket a bit more colourful."
"I started working on the set-up. I still believe that Test cricket is the most pristine form but my idea was to make T20 a bit more colourful."
But monetising the project was another aspect that worried EcKermann.
"I came in touch with David Leigitwood and he was ready to come in as a commercial partner and thus Zing International was formed. Once I felt that it was foolproof, I approached Cricket Australia with an offer to use this in Big Bash," EcKermann said.