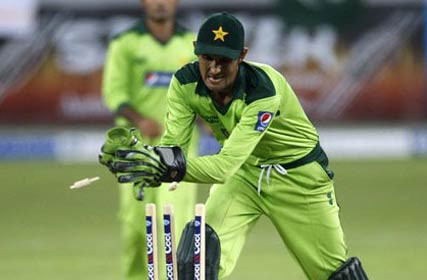 London, Nov 9 : After sensationally deserting his team midway through a series, Pakistan wicketkeeper Zulqarnain Haider today sought political asylum in the UK due to the threats he received for refusing to fix an ODI against South Africa in Dubai.Haider fled to London on the day of the fifth and final one-dayer of the series against South Africa which Pakistan lost 2-3 last night.
The 24-year-old, who hit the winning runs in the fourth ODI, claimed that he received threats for not agreeing to fix the match and met immigration officials at the Heathrow airport for close to five hours last night.
"I understand there is a rule in Britain that if you are right and if you are not a criminal, then they always protect you," Haider told 'Geo News'.
Haider said he received a message asking him to be a part of a match-fixing conspiracy ahead of the fourth one-dayer but refused to reveal the identity of the person who approached him."I was approached by one person who asked me to fix the fourth and fifth match and there would be problem for me if I did not do it," Haider said.
"I do not want to say who is involved and who is not involved in the match fixing," he added.
"The country is like a mother and anyone who sells it cannot get anything in life. I did not want to sell my mother, I did not want to sell my country and I did what I thought was better."Haider took his passport from the team management after the fourth ODI on the pretext of buying a mobile connection but instead fled to London.
"I did not do what I was asked to do in the fourth one-dayer and I also did not let it happen what was being asked to do, so this is the reason that I left the team and came here and I did what I felt better," he added.
Security has been beefed up at Haider's house in Lahore but the wicketkeeper, who has played just one Test and four ODIs, said he continues to fear for his family's safety."I cannot say what kind of threats I have received as my family is still in Pakistan," he said.
The controversy surrounding Haider is the latest in the long list of setbacks that Pakistan cricket has suffered in the past few months.PTI