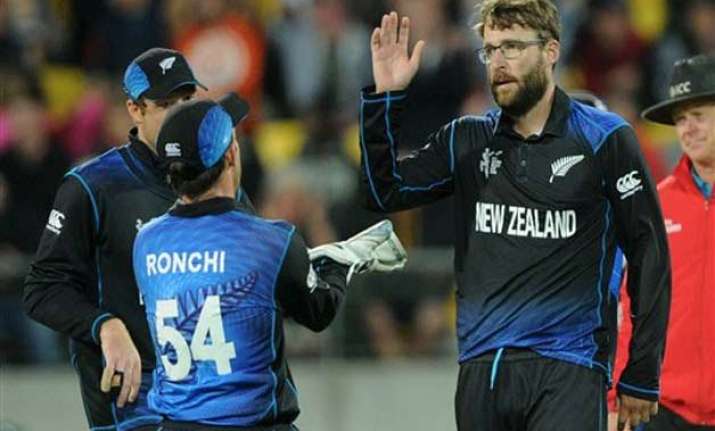 Wellington: New Zealand thumped West Indies by 143 runs in a yet another one-sided quarterfinal to set up a semifinal clash against South Africa.
Semifinal 1: 24th March 2015 (Tuesday) - New Zealand vs South Africa - 06:30 IST (Auckland)
Semifinal 2: 26th March 2015 (Thursday) - Australia vs India - 09:00 IST (Syndey)
As it was predicted, the four best - Australia, New Zealand, South Africa and India are in the semifinals.
Martin Guptill is man of the match for his unbeaten 237.
Even when it was raining fours and sixes from Gayle's bat, it felt like New Zealand had already batted them out of the game, but once he was dismissed, the Windies just hurtled towards a heavy defeat. Jonathan Carter, Marlon Samuels, Darren Sammy, Jason Holder and Andre Russell played breezy knocks, but that just wasn't enough on a day when Martin Guptill's wondrously inspiring innings had put New Zealand in pole position.
Trent Boult again bowled aggressively by generating swing, and pitched it up and was rewarded with four wickets. Boult has also added another string to his bow as he has a fine bouncer up his sleeve now. The fielding too was sharp and Vettori's one handed effort at the boundary is the example.
The Kiwis win by a margin of 143 runs, the biggest margin of victory in a World Cup knockout game.
West Indies 250 all out after 30.3 overs
Sulieman Benn 9 (4)
Jason Holder scored some consoloating boundaries but that was not enough to take the team through. It was again a one-sided quarterfinal. Though West Indies scored at the rate of 8 but they kept losing wickets on regular intervals. They will now meet South Africa in the first semifinal on March 24.
Jason Holder c Anderson b Vettori 42 (26)
OUT! It's all over for West Indies. New Zealand have stormed into the semis. Holder backs away and looks to go over long-off, he doesn't get the required distance on that and offers a simple catch to Anderson at long-off.
Sulieman Benn is the last man in
West Indies 221/9
Jerome Taylor c Guptill b Southee 11 (12)
OUT! Caught by Guptill. West Indies lose their ninth wicket! This was the yorker length delivery and on the leg-stump line, Taylor was looking to jam it out, ends up scooping it straight to Guptill at mid-wicket. Umpires checks if it is a bump ball but it's fine.
Jerome Taylor is in at no. 10
West Indies 201/8
Andre Russell b Southee 20 (11)
OUT! Eight down now! This was full and on the stumps, Russell made room for the big heave over mid-wicket, connects thin air with the shot and misses, the off-stump is knocked back. For New Zealand it is just the matter of time to finish it now.
West Indies 201/7 after 25 overs
Andre Russell 20 (10), Jason Holder 14 (10)
At the halfway stage West Indies are 7 down and they still need 193 runs and only 3 wickets are remaining. Russell and Holder are on the crease. Both have played some good shots but it's too late for them. Runs are coming but they do not have enough wickets.
Skipper Jason Holder walks in at no. 9
West Indies 173/7
Jonathan Carter b Vettori 32 (39)
OUT! West Indies are losing wickets in a heap. A yorker by Daniel Vettori. Carter stepped forward on the drive, ends up playing all around the ball, it clips the off-stump. He was left surprised and left the field in anguish.
Andre Russell is in at no. 8
West Indies 166/6
Darren Sammy c Ronchi b Anderson 27 (16)
OUT! Sammy has just thrown it away. That was absoultely a needless shot. Corey Anderson pitched it short, Sammy went for a pull and ends up getting a top edge. The ball goes high and Ronchi gets it comfortably. West Indies innings is coming to an end somewhere soon.
West Indies 161/5 after 20 overs
Jonathan Carter 29 (33), Darren Sammy 25 (12)
West Indies are losing the game now. They have just let the game slip away from their hands. Infact it was nowhere in their hands after Boult struck 4 early wickets. The remaining seems to have been shattered after Gayle dismissal. Carter and Sammy are the last recognized batsmen on the crease and they still need lot of runs to win. Both the batsmen have scored couple of big hits but its just not enough if they can't save their wickets. Boult has finished with his 10 overs and conceded just 44 with 3 maidens and 4 wickets.
Darren Sammy is in at no. 7
West Indies 120/5
Chris Gayle b Adam Milne 61 (33)
OUT! Bowled him. Adam Milne knocked him over. This was pitched slightly shorter close to the off-stump. Gayle cleared his left leg and looked to loft it over mid-wicket, gets an inside edge and the off-stump goes for a walk.
DRINKS BREAK
West Indies 115/4 after 15 overs
Chris Gayle 60 (31), Jonathan Carter 9 (17)
West Indies are four down by Gayle shows no sign of stopping. He seems to be under no pressure and scoring freely. He reaches to his half-century with a boundary in just 26 balls and have already blasted 8 sixes. Though the scoring rate is good but Windies have lost just too many wickets. One wicket here will throw them out of the game.
West Indies 80/4 after 10 overs
Chris Gayle 36 (17), Jonathan Carter 0 (1)
Despite two early setbacks, Gayle and Samuels gave a flying start, scoring 54 runs in 5.4 overs after Vettori showed a stunning one handed effort at the third man boundary. Ramdin followed him back to the pavilion at 0 and West Indies are falling apart here. Gayle looks well set but is falling short of partners. Meanwhile Boult is now the leading wicket taker in the World Cup.
Jonathan Carter is in at no. 6
New Zealand 80/4
OUT! Boult is on fire! Four wickets for him inside the powerplay. That was a plumb in front and umpire had no doubt. He raises his finger immediately. Nothing but a good length delivery on the stumps, Ramdin looks to drive but misses, gets hit on the pad.
Denesh Ramdin is in at no. 5
West Indies 80/3
Marlon Samuels c Vettori b Boult 27 (15)
OUT! What a catch! Probably one of the best catch of the tournament so far. Vettori you beauty! It looked as if it was going for six, but he's jumped high at the last moment and grabbed a left-handed stunner. Short and outside off stump, Samuels backs away and cuts, doesn't bother to keep it down. He was looking to clear the boundary but Vettori jumps at the right time. The batsman is stunned and so is the crowd.
Marlon Samuels is in at no. 4
West Indies 27/2
Lendl Simmons c Guptill b Boult 12 (17)
OUT! Another wicket and second for Boult. Full and outside off stump, Simmons goes for the drive, but gets a thick edge, the ball flies to second slip where Guptill takes an easy catch.
West Indies 21/1 after 5 overs
Chris Gayle 11 (10), Lendl Simmons 6 (14)
That's not the ideal start for West Indies. They lost the wicket of Johnson early for just 3. Boult with his thunderbolt delivery knocked him over. Chris Gayle will be the key here for Windies to have any chances of winning.
Lendl Simmons comes in at no. 3
West Indies 4/1
Johnson Charles b Boult 3 (6)
OUT! Off-stump goes for a walk. Fullish inswinger on the off stump, Charles stays leg-side and looks to force the drive through cover, misses the ball completely and it uproots the off stump.
Chris Gayle and Johnson Charles are at the crease. Gayle is on strike. Southee will open the attack
====================
For the West Indies to have any chance of chasing down this mammoth target, they need Gayle to fire on all cylinders. In short, New Zealand will back themselves to win this game.
Guptill turned out to be only the second batsman to crack a double ton in World Cups and broke the record for the highest individual score in World Cups. Interestingly, Chris Gayle's double hundred also came in this mega event. His knock is the second highest individual score in the history of ODIs.
He became the first batsman from New Zealand to compile back-to-back centuries in the history of the World Cup. Guptill scored consecutive hundreds for the second time in his ODI career. He is only the second batsman from his country to amass a score of 100 plus in a knockout game. He now holds the record for the highest individual score by a cricketer from New Zealand as well.
Not a single reverse-sweep or a scoop or a ramp. Hardly any slogging. He reached his 100 off the 111th ball he faced.From 100 of 111 he has ended with 237 off 163. The last 52 balls have brought him 137 runs.
Remember, Rohit Sharma was dropped on 4, when he made 264 at the Eden Gardens a few months ago.
New Zealand have doubled their total after 35 overs. It was 187/2 and they scored 206 in last 15.
New Zealand 393/6 after 50 overs
Martin Guptill 237 (163), Daniel Vettori 8 (2)
And Guptill faces the last ball of the innings as well. He started off with a boundary on first delivery and finishes with a bang! He walks off the ground with a brilliant 237 including 24 fours and 11 sixes. The crowd is on its feet and fans from both the countries bows to him. He was dropped on 4 alright, but he has been unstoppable since then. Vettori arrived after Ronchi's dismissal and scored two boundaries in two balls he faced.
Daniel Vettori comes in at no. 8
New Zealand 365/6
Luke Ronchi c Benn b Taylor 9 (5)
OUT! Full length delivery Ronchi chipped it to leg side but Benn takes the catch at backward square leg. No celebrations by the Caribbeans.
Guptill raises his bat as he gets his maiden double hundred in style with a brilliant boundary down the ground. Sixth double-hundred in ODI cricket and the first New Zealander to do it. This is also the first double-hundred in a World Cup knockout game.
Luke Ronchi is in at no. 7
New Zealand 333/5
Grant Elliott lbw b Taylor 27 (11)
OUT! Loud appeal for lbw and umpire says yes. Elliott reviewed it but snicko shows no connection with the bat and thus the original decision stays. He goes too much across the stumps and misses the ball as he swings hard, gets hit on the back leg.
New Zealand 309/4 after 45 overs
Martin Guptill 188 (146), Grant Elliott 10 (5)
Martin Guptill is cruising towards his best individual score in ODIs as well as to his maiden double hundred as well. This is absolute carnage by the batsmen and it's a run feast here at Westpac as New Zealand sails past 300.
Grant Elliott comes in at no. 6
New Zealand 278/4
Corey Anderson c Gayle b Russell 15 (16)
OUT! Russell gets another wicket with a slower ball. Anderson shuffles across to pull this shortish ball over midwicket but finds Gayle at mid-wicket.
New Zealand 240/3 after 40 overs
Martin Guptill 145 (131), Corey Anderson 2 (6)
53 runs in the batting powerplay with the loss of Ross Taylor. Martin Guptill is already on 145 and if he stays till the end, 200 for him is very much possible. For New Zealand they would look to score 80-100 runs more in the remaining 10 overs.
Corey Anderson comes in at no. 5
New Zealand 232/3
Ross Taylor run out (Ramdin/Benn) 42 (61)
OUT! Another mix up in the middle and its out. Guptill went for a sweep but didn't timed well. Wicketkeeper Ramdin fields the ball at short leg and throws it back to Benn. Taylor wanted the single and was already half way down the pitch. Benn whips off the bails as Taylor was way out.
TIME FOR BATTING POWERPLAY
DRINKS BREAK
New Zealand 187/2 after 35 overs
Martin Guptill 100 (111), Ross Taylor 36 (57)
Martin Guptill gets his 7th ODI hundred, his second in the tournament. With this he becomes the first New Zealander to score back to back hundreds in World Cups. Also this is second time Guptill scored two consecutive centuries in ODIs. Meanwhile Taylor got his first boundary with a paddle sweep to fine leg. West Indies' bowlers struggled to stem the run flow as the batsmen took advantage of it to check in a slew of boundaries.
New Zealand 160/2 after 30 overs
Martin Guptill 86 (95), Ross Taylor 24 (43)
Kiwis are going very well and they have managed to survive will 30 overs without losing a wicket. Guptill is into the 80s while Taylor who has faced 43 balls so far scored 24 without a single boundary.
New Zealand 138/2 after 25 overs
Martin Guptill 72 (81), Ross Taylor 17 (27)
Martin Guptill is playing a powering innings here and if New Zealand manage to save wickets till the 40th over, 300+ is certainly on the cards. Meanwhile Ross Taylor has been very defensive so far and restricted himself just to singles and couples.
New Zealand 105/2 after 20 overs
Martin Guptill 50 (64), Ross Taylor 6 (14)
Chris Gayle's juggling effort to dismiss Kane Williamson have dented the kiwi run rate. Martin Guptill after a couple of failures returned back to form with a brilliant half century and looking to score far more than that. He presented a full face of the bat to essay eye-catching shots down the ground. In fact, Taylor generated swing, but Guptill showed poise and balance to collect boundaries. Guptill could have been dismissed as well, but Samuels dropped a catch at square leg. West Indies may pay for that drop catch as Guptill has looked in fine touch.
Ross Taylor comes in at no. 4
DRINKS BREAK
New Zealand 89/2
Kane Williamson c Gayle b Russell 33 (35)
OUT! Big wicket of Williamson. It was short and well outside off by Andre Russell. Williamson went against the run of play. He cuts and the ball went straight to Chris Gayle at short covers who did a brilliant juggling act before grabbing it safe.
New Zealand 86/1 after 15 overs
Martin Guptill 39 (51), Kane Williamson 32 (31)
The two batsmen are now up with the 50-run partnership. Kane Williamson survived couple of lbw appeals but the way he is batting, he don't seem to be in any kind of trouble. Meanwhile West Indies have lost their review after challenging a rejected lbw appeal by Benn against Williamson.
New Zealand 63/1 after 10 overs
Martin Guptill 29 (33), Kane Williamson 21 (19)
New Zealand got off to a flying start. Despite losing their skipper, Williamson and Guptill show no signs of some pressure. Boundaries are coming every over and the West Indies bowlers still don't know which line they should bowl to the kiwi batsmen.
New Zealand 31/1 after 5 overs
Martin Guptill 18 (22), Kane Williamson 0 (0)
It was yet another start by a boundary in the quarterfinals. Martin Guptill played some exquisite strokes and McCullum tried the same as well. After hitting a boundary and a six he went for a biggie but miscues it to Jason Holder who took a brilliant running catch. Despite a wicket, NZ camp would be happy about the start.
Kane Williamson comes in at no. 3
New Zealand 27/1
Brendon McCullum c Holder b Taylor 12 (8)
OUT! Big wicket for West Indies. It was full again with a touch of shape away just outside off, McCullum goes for the big lofted drive once again, but miscues it completely. Holder runs back from mid-off and takes a good catch.
Jerome Taylor has the new ball and Guptill takes the strike.
Brendon McCullum and Martin Guptill are in the middle.
West Indies are in a huddle while New Zealand openers are waiting on the edge of the boundary.
The teams line up for the anthems.
West Indies (Playing XI): Chris Gayle, Johnson Charles, Marlon Samuels, Jonathan Carter, Lendl Simmons, Denesh Ramdin(w), Darren Sammy, Andre Russell, Jason Holder(c), Jerome Taylor, Sulieman Benn
New Zealand (Playing XI): Brendon McCullum(c), Martin Guptill, Kane Williamson, Ross Taylor, Grant Elliott, Corey Anderson, Luke Ronchi(w), Daniel Vettori, Adam Milne, Tim Southee, Trent Boult
Only one change for New Zealand. Adam Milne comes in for in for Mitchell McClenaghan.
Chris Gayle is back in, Dwayne Smith misses out. Sulieman Benn comes back in for Kemar Roach.
Toss Time: New Zealand won the toss and have elected to bat first
No chance of rain. It will be partly cloudy and sunny. A high of 19C is predicted with a humidity of 59% expected. Should be a good day for playing cricket.
It's even-stevens as far as World Cup meetings are concerned. The two teams have met each other 6 times and the equation is leveled at 3-3.
The West Indies' batsmen posted three centuries in the group games, New Zealand's only one, although that was also a consequence of the face New Zealand often chased small totals.
The Black Caps have played consistently well across the tournament whereas the West Indies' form has swung wildly, from wins over Pakistan and Zimbabwe to losses to Ireland, India and South Africa.
An unpredictable West Indies need Gayle for the crucial knock-out game even as captain Jason Holder said a final call on the dangerous opener will be taken not before match day morning.