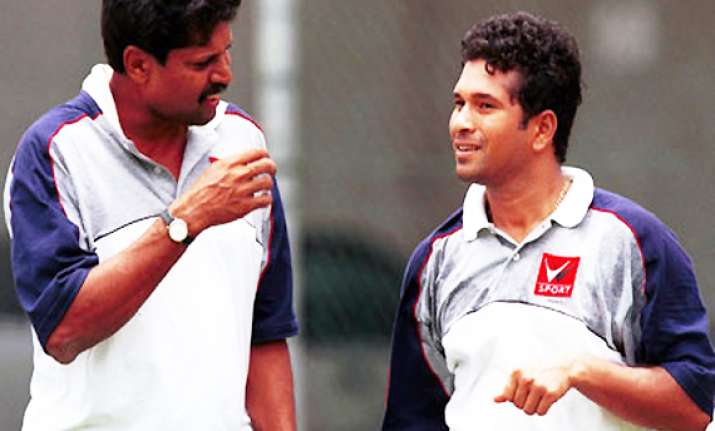 Mumbai, Oct 26: At the height of the match-fixing saga a decade ago, the then India coach Kapil Dev had overruled captain Sachin Tendulkar's decision to enforce the follow on against New Zealand in the Ahmedabad Test, former Cricket Board secretary Jaywant Lele has recalled in a new book.

"The subject of match-fixing was riding very high at that time (1999-2000). It was a Test match in Ahmedabad against New Zealand. India had put on a mammoth total of 583 runs in the first innings, against which, the visitors could post only 308. Everyone expected India to impose a follow-on," Lele has written in his autobiography "I was There – Memoirs of a Cricket Administrator".

"Sachin Tendulkar, the captain of the Indian team, went to the opposition captain (Stephen) Fleming, and told him that they had to bat again. He told the umpires that India was imposing a follow-on and told them to show a few balls to our opening bowlers for selection.

"From there, he walked to the dresing room and instructed (Javagal) Srinath and Venkatesh Prasad to select the new ball. They nodded, and as they spoke, Kapil Dev, the Indian coach, who was some distance away, shouted to Sachin, "Captain no follow-on! Our bowlers are tired. We will bat."

Lele recalled how the then chairman of selection committee Chandu Borde was taken by surprise by the decision of not imposing the follow on.

"Chandu Borde, the then chairman of the selection committee and I, exclaimed, "What?" Why, why not impose a follow-on. Sachin, as he is a gentleman par excellence (in fact, sometimes more than required), tamely obeyed. After all, the coach of the stature of Kapil was ordering him!

"(Sachin): 'Haan, theek hai, paaji. Lekin maine to unko bol diya hai ki hum follow-on de rehe hai' (Okay, but I have already told them that we are enforcing a follow-on)."

"(Kapil): 'To phire se jaake bol do, woh maan jaayenge' (So what? Tell them we are changing the decision. They will agree)".