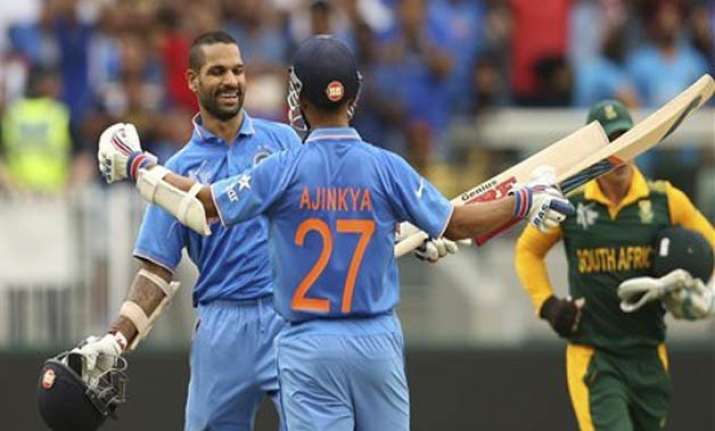 India beat South Africa by 130 runs, Shikhar Dhawan is the man of the match
Melbourne:
Buoyed by their overwhelmingvictory against arch-rivals Pakistan in the opening game, India will aim to turn the tables when they meet a formidable South Africa in the
World Cup
, here today.
A convincing win for India. This is their first ever World Cup victory over South Africa in World Cup competitions, coming in their fourth attempt.
South Africa 177 (40.2 ov)
Tahir lbw b Ravindra Jadeja 8(10)
South Africa 175/9 after 40 overs
The delivery  was tossed up by R  Ashwin, Morkel gone  for the slog sweep, cleared his left leg and attempted a massive heave over cow-corner, misses it completely.
M Morkel b Ashwin 2(5)
The delivery was banged in short and just outside off, Steyn made room for the cut, got some solid conection but hits it straight to Dhawan.
Steyn c Dhawan b Shami 1(7)
Parnell    16 (27) Tahir    8 (9)
South Africa 156/7 after 35 overs
Steyn    1 (4) Parnell    7 (14)
Ravindra Jadeja, the slow left-arm orthodox, has kept the pressure on the batsmen by bowling an economical spell.The Indian bowlers are giving a hard time to the South African batsmen. South Africa's hopes of winning the game now  looks to get glimmer
Philander lbw b Ashwin 0(2)
D Miller run out (U Yadav/Dhoni) 22(23)
Wayne Parnell comes in the midlle
The extra bounce of Ashwin has done JP Duminy completely
Duminy c Raina b Ashwin 6(15)
South Africa 142/4 after 30 overs
David Miller 20 (21) Jean-Paul Duminy 2 (7)
Mohit Sharma to du Plessis, OUT Caught by Shikhar Dhawan  Mohit Sharma comes into the attack and du Plessis perishes first ball before he scored his 13th ODI fifty, good innings from Faf comes to an end.  South Africa have very little bating left to come now, and hence these two will have to be quite cautious before changing the gear.
F du Plessis c Dhawan b MM Sharma 55 (71b)
South Africa 115/3 after 25 overs
Faf du Plessis 48 (62), David Miller 3 (7)
de Villiers and du Plessis were looking dangerous with a half century partnership before a brilliant throw by Mohit and good work at stumps by Dhoni that saw de villiers walking back as he was run out. A slight comeback for Indians in the game but home is still far.
David Miller is the next man in
South Africa 108/3
AB de Villiers run out (Mohit/Dhoni) 30 (38)
OUT! a wicket after a long wait. And its de Villiers who is making his way back to the pavilion. It was flighted delivery outside off, de Villiers drives it off the front foot and gets it to the left of sweeper cover, who was quick to run across and de Villiers decided to come back for the second but fell just short of the crease. Good throw from Mohit and good collect from Dhoni.
South Africa 92/2 after 20 overs
Faf du Plessis 32 (47), AB de Villiers 26 (30)
This has been a disciplined bowling effort from the Indians. But AB and du Plessis has taken his time and has just started looking dangerous as the duo no share fifty runs. The required rate is well above 7 RPO.
South Africa 61/2 after 15 overs
Faf du Plessis 14 (31), AB de Villiers 13 (16)
de Villiers and du Plessis now have to build a solid stand in order to put pressure on the Indian bowlers who have dominated the innings so far. With the wicket of Hashim Amla early, and if the bowlers manage to get two more, India will certainly hold the game. The game is still evenly poised at this moment.
Incomes another danger man AB de Villiers
South Africa 40/2
Hashim Amla c Shami b Mohit 22 (28)
OUT! And the big man departs. Pitched short and Amla goes for a pull. He gets a top edge and Shami takes a good catch at deep backward point.
South Africa 38/1 after 10 overs
Hashim Amla 22 (27) , Faf du Plessis 5 (18)
India have done well to keep the scoring rate down. They now need a couple of quick wickets. As long as they get regular breakthroughs and don't let the batsmen settle, India will be fine. Bowlers are doing well, fielders are doing well. They have unlucky on many occasions on the field, missing a run out and catch falling short of the fielder. Amla will be the key in the Proteas' chase.
South Africa 17/1 after 5 overs
Hashim Amla 6 (8) , Faf du Plessis 1 (7)
Dream start for India after having picked de Kock early for 7. Shami bowled a superb wicket maiden to put the proteas under pressure right from the start. But the danger man Hashim Amla is still out there. Good pace for the bowlers but they should let the game slip away.
Faf du Plessis is the next man in
South Africa 12/1
Quinton de Kock c Kohli b Shami 7 (15)
OUT! Wicket for Shami. de Kock never looked settled and he falls now! This was pitched up and pretty wide outside off. He goes for a drive but finds Virat Kohli at mid-off.
Amla takes the strike and Umesh Yadav to start off the proceedings for India.
The openers Hashim Amla and Quinton de Kock are out in the middle.
South Africa will begin their chase shortly
---------------------------------------
See also: World Cup 2015: India vs South Africa scoreboard, Match 13
It is a good batting track and South Africa should fancy their chances of chasing down the target. For India, it is up to the bowlers to step up to fashion a victory. It would be interesting to see whether the seamers will get a few deliveries to skid off the surface under lights by bowling cross-seam as first 10 overs will be very crucial.
South Africa dropped couple of crucial catches of Dhawan and Kohli in middle of the innings but the skipper AB de Villiers owing his wicket keeping skills dismissed Rohit and Jadeja with a direct-hit bang on to the stumps.
Ajinkya Rahane too essayed a stirring knock, matched Dhawan stroke-for-stroke by playing an innings full of poise and balance. He took a heavy toll off JP Duminy's bowling before smashing the rest of South Africa's attack to shreds.
On the back of Shikhar Dhawan's majestic innings of 137, India posted a massive total. However, South Africa took a slew of wickets in the end overs to gain a bit of momentum, otherwise the total could be somewhere around 330.
India 307/7 after 50 overs
Ravichandran Ashwin 5 (5), Mohammed Shami 4 (5)
Mohammed Shami is the no. 9 batsman for India
India 302/7
MS Dhoni c de Kock b Morkel 18 (11)
OUT! What was Dhoni trying to do there! It was banged short by Morkel and Dhoni shuffles across to hook, only manages a top-edge through to the keeper.
Ravichandran Ashwin is the new man in at no. 8
India 284/6
Ravindra Jadeja run out (de Villiers)  2 (4)
OUT! And another. Jadeja hits to mid-off and went for a single but wasn't quick enough in running and fell short of the crease. de Villiers' direct hit and Jadeja is gone.
Ravindra Jadeja is the next man in
India 278/5
Ajinkya Rahane lbw b Steyn 79 (60)
OUT! Steyn finally gets his man and its Rahane who has to go back. Straight on the pads, Rahane looked to club it to leg side but misses. Huge appeal and umpire raises his finger.
India 271/4 after 45 overs
Ajinkya Rahane 73 (55), MS Dhoni 0(0)
Two quick wickets of Dhawan and Raina has somehow brings the bowlers back in the game. Both were dismissed off a short ball while trying to pull. Rahane was dropped by Rossouw two balls earlier after he got out. Indian skipper MS Dhoni now joins Rahane at the crease.
MS Dhoni walks in to bat
India 269/4
Suresh Raina c sub (Rossouw) b Morkel 6 (5)
OUT! Another wicket. Banged short by Morkel, Raina goes for a pull but it was not timed well and hangs it on to the substitute fielder Rilee Rossouw at deep mid-wicket.
Suresh Raina is the next man in
India 261/3
Shikhar Dhawan c Amla b Parnell 137 (146)
OUT! Dhawan goes for a big one again. He tries to pull and hits high on the bat and went high in the air and down into the hands of Amla at long leg. The crowd clap and send Dhawan off. Umpires check for a no-ball but it's fine.
India 227/2 after 40 overs
Shikhar Dhawan 126 (136), Ajinkya Rahane 49 (39)
India scored 44 runs off the batting powerplay and Dhawan is carting Steyn all over the ground. Rahane too is on course for a big score and the South Africa bowlers are on backfoot. Both the batsmen are on fire. Tension is South African camp.
TIME FOR BATTING POWERPLAY
India 183/2 after 35 overs
Shikhar Dhawan 103 (122), Ajinkya Rahane 28 (23)
Shikhar Dhawan reprised the fine form he showed against Pakistan. He gets his 7th ODI century with a beautiful boundary wide of cover point. He was under immense pressure coming into the tournament, but he has produced the goods at the right time for India. Rahane at the other end is now well set with three boundaries and the partnership already has crossed the half century mark.
WORLD CUP UPDATE: SRI LANKA DEFEATED AFGHANISTAN BY 4 WICKETS
India 146/2 after 30 overs
Shikhar Dhawan 92 (109), Ajinkya Rahane 4 (6)
Just as when Kohli was about to get his second consecutive fifty he was dimissed by Imran Tahir while he tried to play a pull but hangs on to du Plessis at mid-wicket. On the crease are now Indian test openers Dhawan and Rahane who have the resposibility to take India innings further. Dhawan has slowed down a bit..may be he has his century in his mind.
Ajinkya Rahane is in at no. 4
India 136/2
Virat Kohli c du Plessis b Tahir 46 (60)
OUT! Wicket at the wrong time for India. Kohli is gone. He went back and played that bottom-handed whip, failed to keep it down and finds du Plessis at short mid-wicket. Kohli swings his bat in frustration. He is not happy.
India 123/1 after 25 overs
Shikhar Dhawan 82 (92), Virat Kohli 37 (53)
India's third century partnership for the second wicket against South Africa in World Cups. Dhawan and Kohli are really taking the attack on the bowlers. Perfect platform for the batsmen coming down the order. Both the batsmen are well set now and Dhawan is now into the 80s with 12 boundaries keeping the world best bowler Steyn below par.
India 83/1 after 20 overs
Shikhar Dhawan 55 (75), Virat Kohli 26 (39)
Dhawan is looking as good as he was looking in the previous match. He missed out on a well deserved hundred then but today it's a great opportunity for him to convert this into a big one as he is already up with his half century. However he was dropped by Amla at backward point off Parnell's over. It could be stunner!
India 61/1 after 15 overs
Shikhar Dhawan 40 (57), Virat Kohli 21 (27)
That's a good fight-back by India. The Kohli-Dhawan duo after an early strike of Rohit, are up with a half century stand and looking to score far more than that. The pair will be the key in Indian innings as these two are in form. Dhawan is strike the ball well but seems to be get troubled by short pitch deliveries most often.
India 36/1 after 10 overs
Shikhar Dhawan 28 (41), Virat Kohli 8 (13)
Dhawan is looking in good touch having scored five boundaries so far while Kohli at other end is taking his time. Two back to back bowling changes by de Villiers. Duminy and Morne Morkel replaces Steyn and Philander.
India 10/1 after 5 overs
Shikhar Dhawan 10 (17), Virat Kohli 0 (7)
Dale Steyn has started troubling Indian batsmen in the middle with his 140kph plus deliveries. He is getting good bounce. Rohit who struggled in the first over off Steyn went for a quick single but fallen short of the crease. It was a second consecutive failure for the Indian opener. The batsmen should avoid taking risks from the start. Meanwhile Dhawan scored two boundires but still seems to be struggling unlikely the previous match.
Virat Kohli is the next man in
India 9/1
Rohit Sharma run out (de Villiers) 0 (6)
OUT! Rohit fails yet again. A mix up in the middle. Dhawan comes on the front foot to push into the covers, where AB makes a super diving stop. Rohit went off for a single but sent back by Dhawan falling miles short of the crease and a direct hit which sends him back to pavilion.
Rohit Sharma taking his guard and Dale Steyn is marking his run up.
Indian openers Rohit Sharma and Shikhar Dhawan are walking upto the middle and so are the South African players and the two umpires.
The national anthem of both teams are being played.
Openers are the key for India. If India get off to a strong start, the middle-order is more than capable of boosting the score later.
South Africa (Playing XI): Quinton de Kock(w), Hashim Amla, Faf du Plessis, AB de Villiers(c), David Miller, Jean-Paul Duminy, Wayne Parnell, Vernon Philander, Dale Steyn, Morne Morkel, Imran Tahir
India (Playing XI): Rohit Sharma, Shikhar Dhawan, Virat Kohli, Suresh Raina, Ajinkya Rahane, MS Dhoni(w/c), Ravindra Jadeja, Ravichandran Ashwin, Mohammed Shami, Umesh Yadav, Mohit Sharma
Protea captain AB de Villiers wanted to bat first as well. Wayne Parnell is in for Farhaan Behardien.
Time for toss. India have won the toss and have elected to bat first. No change for team India, Dhoni says.
In all three defeats, India have batted first and it willinteresting to see what decision Dhoni will take if he wins the toss.
This is not a 300 pitch. Whichever team which wins the toss will look to bat first as there will be a lot of movement under the lights in the evening.
According to the pitch report, there's quite an even covering of grass and it's green grass. It's quite hard as well.
Player to player, South Africa seem to possess a far more formidable line-up compared to India, who are just trying to hit the right rhythm post Pakistan victory.
     
While South Africa were a bit patchy in their 62-run win against Zimbabwe, JP Duminy and David Miller's magnificent late blitz turned the course after the minnows dominated the better part of the match.
Although a group league match in this tournament is of little consequence but the winner of this game might just go a long way in clinching the top spot in group B, considering that the other teams are just not world beaters.
Pakistan failed to buck the trend against the defending champions for the sixth time, Mahendra Singh Dhoni's men will hope that they turn fourth time lucky after losing to South Africa on three previous editions at the mega event in 1992, 1999 and 2011.