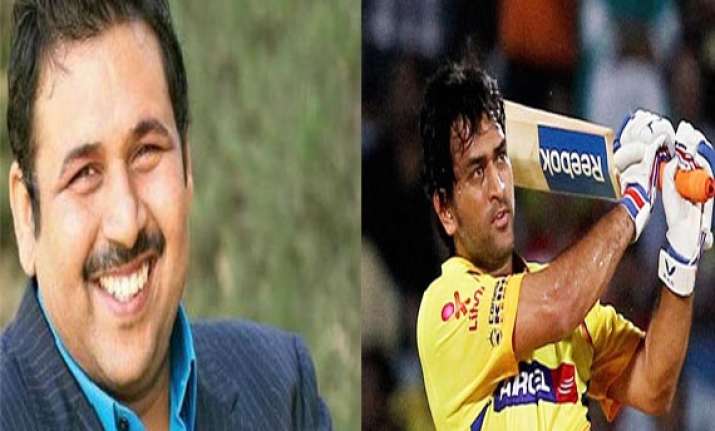 New Delhi, Jun 3 : Arun Pandey, who hails from Varanasi, used to help out Team India captain Mahendra Singh Dhoni at the nets 15 years ago. Now, he looks after Brand Dhoni which has a turnover of more than Rs 100 crore.  
Pandey, a  state-level cricketer, felt he had no chance to build a career in cricket and joined the world of event management at T-Series. In 2007, Dhoni gave Pandey the licence to neogitate endorsement deals on his behalf.
Pandey sruck four deals worth Rs 13.5 crore. At that time, Dhoni's 15 other deals were fetching him only Rs 25 crore, says a report in Economic Times.
Today, Dhoni endorses 22 brands, including Reebok, Pepsi and Aircel.  sponsors of  Chennai Super Kings, like  Aircel and Gulf Oil, are also connected with Dhoni.
"It's a relationship of trust. Mahi (Dhoni) has confidence in us. He's never questioned a deal we have done. He knows we will do the filtering at our end", Pandey told ET in 2010 when his firm Rhiti Sports bagged the deal to market Dhoni, leaving other well-established sports management firms behind.
"I'm a friend, wellwisher, family member. Aap jo bhi samjho (think whatever you may)", Pandey had then said. Pandey is a vegetarian, a non-smoker and abstains from alcohol and party circuit, but he is an industrious person, who can attend a meeting even at 4 am, if called by the sponsors.
Today, Pandey runs Rhiti Sports Management, a sports-management firm he started in 2007 and named after his niece.
Besides Dhoni, Rhiti manages Saina Nehwal, the world number two badminton player, and cricketers Suresh Raina, Ravindra Jadeja, Pragyan Ojha and RP Singh.
Rhiti Sports also owns the marketing rights for the Chennai Super Kings team in the Indian Premier League (IPL), for which Dhoni, Raina and Jadeja play.
The website of Rhiti Sports describes Pandey, as "enterprising". the company's philosophy: " All management can be reduced to three words — people, product and profits. People come first. "
Pandey's Twitter handle (@Arun-Pandey99) has several pictures of him in places closely connected with his business partner Dhoni.