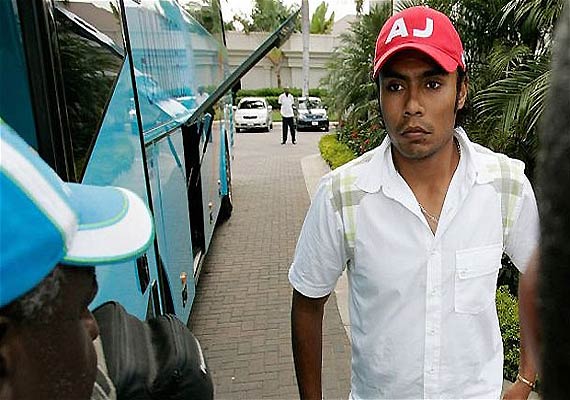 Karachi, Feb 18: Under the cloud of spot-fixing controversy, Pakistan spinner Danish Kaneria has vowed to do everything in his control to get his name cleared in the scandal, which has led to the jail sentence of county bowler Mervyn Westfield.

Former Essex fast bowler Westfield was handed over a jail sentence of four months by a London court on Friday, after he admitted receiving £6,000 ($9,200) to bowl badly so that 12 runs could be scored in the first over of a 40-over match between Durham and Essex in September 2009.

Westfield's lawyer told the court that his Essex teammate Kaneria told him that a friend would pay him to cheat.

"I don't want to say much now on this issue. But it is an incorrect terminology that I have been implicated by the court. In fact, the Essex police cleared me in this case after proper investigations," said Kaneria.

"I have told my lawyer in London to get the full judgment of the trial and pursue this matter. I will not rest until I am cleared to play for Pakistan again," he added.

The leg-spinner's brother Vicky said that they would be approaching the integrity committee of the Pakistan Cricket Board (PCB) to clear Kaneria's name.

"Now that this trial is over, whatever evidence or documents the integrity committee wants we are ready to procure it and submit it to them," Vicky said.

He also said that because of the trial and legal process in United Kingdom, they were unable to submit some documents and tapes to the integrity committee, which could prove Kaneria's innocence.

"But now we can get all material from the court and we want this matter cleared by the integrity committee as soon as possible," Vicky insisted.

Kaneria, who played 61 Tests and 18 one-dayers for Pakistan between 2000 and 2010, was arrested in connection to spot-fixing case in 2010 but later released without being charge.

But the PCB has not considered him for national selection since August 2010 because of the scandal.

Kaneria also went to the Sindh high court against the PCB for not clearing him for selection despite having been cleared by the Essex police during the course of investigations into the spot-fixing scandal.

The court rejected his petition on technical grounds. Tafazzul Rizvi, the legal advisor of the PCB, said that they also wanted to properly investigate the matter and get to the bottom of it before clearing Kaneria's name.

"We are expecting the English and Wales Cricket Board's disciplinary committee will hold an inquiry as the matter pertains to county cricket. The PCB will co-operate and work with the ECB in finding out the truth in this issue," he said.

Rizvi said that the PCB had zero tolerance policy towards corruption of any kind and would soon get the judgment and other details of the court and give it to the integrity committee.

"Kaneria's case is already with the integrity committee. It is a serious matter because there were doubts over his integrity. But now everything will be examined closely to find out the truth," said Rizvi.

In November, a British court jailed three Pakistani cricketers - Salman Butt, Mohammad Asif and Mohammad Aamer - for fixing parts of a Test in England in 2010.