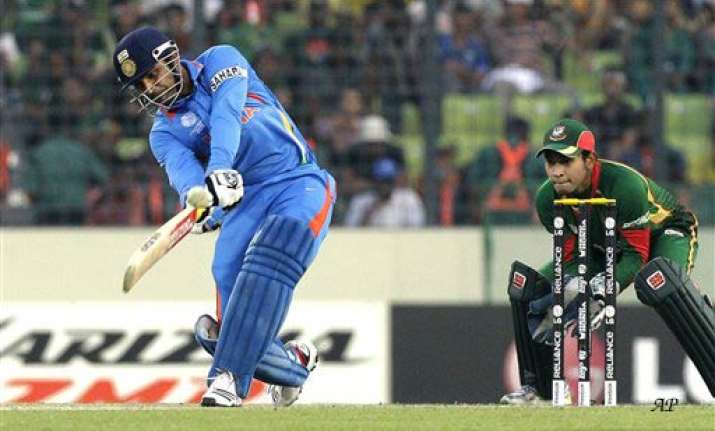 Mirpur, Feb 19 : Man of the match Virender Sehwag termed India's 87-run win over Bangladesh today as "revenge" having lost to the same opponents four years ago in Port-of-Spain during last World Cup.At the post-match conference, when questioned whether it was a revenge game, the Nawab of Najafgarh made a curt reply,"I think so."
A scribe asked about whether he was under any pressure to perform, he gave a typical Sehwag-like reply, "No pressure for me as I only bother about playing and scoring runs."Sehwag stressed on the fact that his 140-ball 175 was a blend of caution and aggression.
"When we started, we got 10 runs per over for the first 3-4 overs but then we decided that we had to be careful or else we might lose a few wickets."
Sehwag however did praise the Bangladeshi boys stating that "they have the ability to disappoint any big side. They are a good side and have the ability to do well against the top sides."He also praised his junior statemate
Virat Kohli
for scoring an 83-ball 100.  "He really played well. He has matured."
About Virat's straight aerial hit being a treat to watch,Sehwag said,"We talked about it after a Champions Trophy innings when he was caught at long-on. These small signals are good enough for a batsman like him. Now he has six centuries and I think he is a good prospect."
Sehwag maintained that it would have been easy to chase 300-320 on this track and the team management wanted to field first if skipper Dhoni won the toss."We were also looking to field first. Chasing 300-320 would have been fine as it is easy to chase." PTI