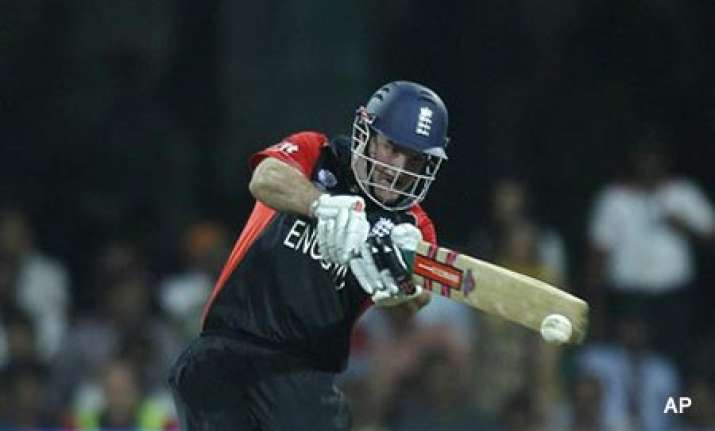 Bangalore, Feb 27: England skipper Andrew Strauss said his side's thrilling World Cup encounter against India here today, which ended in a tie, was a great advertisement for one-day cricket.Strauss, who struck a brilliant 158 to almost single-handedly guide England to a dramatic win, said it was a privilege to be a part of such a close game.
Asked if he was pleased with the result, Strauss said,"Yes and No. We were in a great position to win after 42 overs. It was a tough target to chase. We got to a position towards victory at the end of the 42nd over, where we need to have good powerplay runs."
"But it was a great game of cricket and great advertisement for the sport. Some ways we are happy, and some ways distraught. But I am privileged to be part of this ODI.It was an outstanding wicket to bat on."Asked about Ian Bell's close shave, Strauss admitted that luck was with the right-hander."I do not know it was part of rules but it is luck that he got away with that," Strauss said.
Elaborating further the powerplay, Strauss said,"Powerplay can affect. In fact it affected both ways. The Indians regrouped grabbing the situation. But we got to celebrate the fact that it was an unbelievable act in cricket.In a 50-over format you can get great performances from both sides. Today both sides are happy party sides."
"Zaheer Khan produced a couple of good balls when it mattered. You need to give credit to the opposition as they responded well to the powerplay overs."
Strauss, who won the Man-of-the-Match award for his heroic knock, was all praise for Tim Bresnan, who picked up five wickets apart from playing a cameo lower down the order.
"He was outstanding. There were some good performances all round in batting, bowling and fielding. It was hard to stem the runs. Sachin played brilliantly. I think both teams will carry some positives and negatives from the match."
Asked about his own innings, Strauss said, "It is my best one-day knock, given the importance of the game and in the backdrop of playing in the World Cup and chasing such a total.In the end I was not really proud of. Of course, if I had stayed we might have won. But that is the way cricket goes."PTI