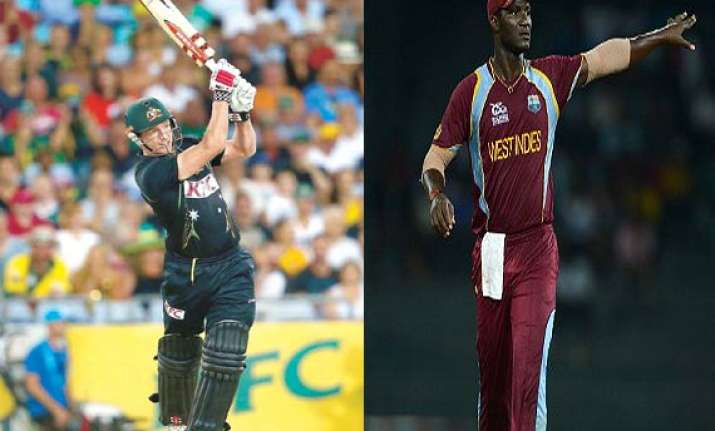 Mirpur, : 
Chris Gayle
will be itching to getback to his power-hitting ways when West Indies lock horns with Australia, who will depend on Glenn Maxwell's pyrotechnics, during their crucial Group 2 League encounter of the ICC World Twenty20 here tomorrow.
With scores of 34 and 48 in the two matches, no one can say that Gayle is not scoring runs but the strike-rates of 103.33 and 100 in the two games against India and Bangladesh tells a different story.     
Gayle has struggled in the Powerplay overs and failed to get the momentum even in the later stages of the match. But Australia is no mood to take him lightly as wicketkeeper-batsman Brad Haddin made it amply clear.     
"I think we have seen over T20 cricket for a long time that Chris Gayle is one of the most destructive batsmen along with Shane Watson in this form of the game. The earlier you get guys like him, the longer you go in terms of winning the game," Haddin said at the pre-match conference when askedabout the Gayle-factor.     
"It's important that we get him early and it's no different with any stroke-maker with that sort of power in the batting line-up. You want to get them early," he added.
Someone, who is never a swift runner between the wickets, Gayle has been seen hobbling from one end to the other but his captain Darren Sammy is not concerned.
Questioned whether Gayle has any fitness issues, Sammy said, "As far as I know, Chris does not intend to miss any match in this World T20. Also each and every cricketer who plays is not perfectly fit. You will have a niggle or hamstring problem. Nobody is ever perfect."
While West Indies have made some sort of a comeback with a facile victory over Bangladesh, it will be a do-or-die situation for Australia, who would want to win to stay in contention for a semi-final berth.