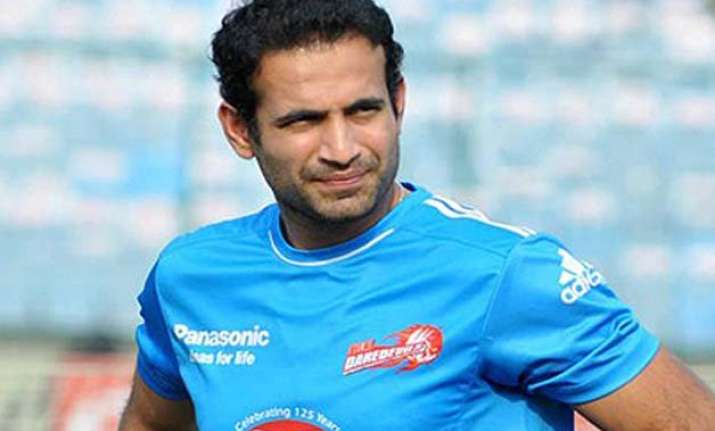 Chennai: Injuries seem to be a permanent companion of India discard Irfan Pathan as the Baroda all-rounder has again reported unfit even before the ball has started rolling for Chennai Super Kings, who will be taking on Delhi Daredevils in their opening IPL encounter tomorrow.
Pathan, who was bought by CSK was training for the past few days, has again sustained an injury and chief coach Stephen Fleming confirmed that the left-arm seamer will not be available for selection against Daredevils.
 
"Irfan Pathan is not fit. Another pacer Andrew Tye is also carrying an injury. They won't be considered for selection at this stage. Their progress will be assessed on a day to day basis," Fleming confirmed at the pre-match media conference, here today.
Pathan has had various injuries ranging from hamstring, knee, calf muscle etc and the list is endless.
On a lighter note, Fleming was asked about another veteran left-armer Ashish Nehra and the coach had a lot of good words about the former India player.
"We have a trend reviving older players. Nehra still has some life left. People focus on youth. But I like experience. Nehra and Hussey are key components in our side. The knowledge they can pass on is immense. The MS Dhoni and Raina factor will be crucial. I like their work and attitude."
Talking about seamers in the team, Fleming stressed on the need to rotate the players.
"The pacers in our squad is quite well rested. Only Mohit Sharma has had a full campaign. It's the same with the overseas seamers. They didn't have a full campaign. But this being a demanding tournament, we need to rotate them and keep them fresh."
It will be Fleming's seventh year as CSK coach and as usual there are some nervous jitters before the first ball is bowled.
"The first game is always a challenge and it sets the tone. If you play well, it is a bonus.