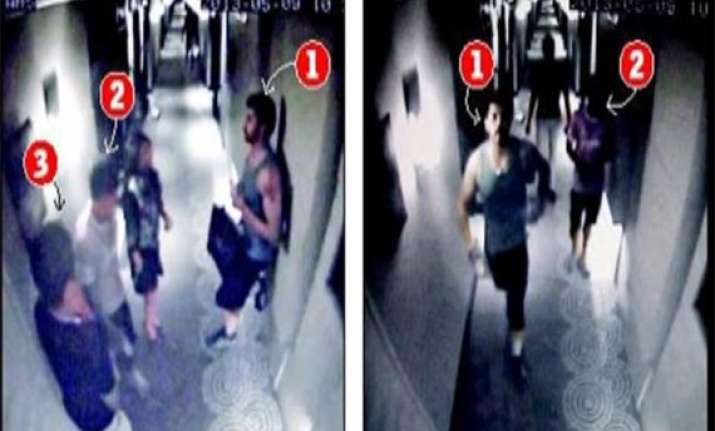 Chandigarh, May 26: Disgraced Rajasthan Royals pacer S. Sreesanth frolicked with women and friends in the five-star hotel in Chandigarh on 'towel nite',  hotel cctv footage acquired by the police reveals.  
'Towel nite' mean the Mohali match on May 9 in which Sreesanth, according to Delhi Police chief, put his towel in his trouser pocket to send signal to the bookies that his second over was 'fixed'. RR won that match.
The 'towel' signal was worth Rs 40 lakhs for Sreesanth, paid to him by the bookies, for throwing a 'fixed' over.
Both Punjab and Delhi Police have acquired the six-cam cctv footage of the hotel foyer where Sreesanth and his friends were frolicking with the women. The hotel is located in sector 35 Chandigarh, where the RR team stayed.
The cctv footage showed, Sreesanth, his friend Jiju Janardan and another disgraced RR player Ankeet Chavan meeting in the foyer on the third floor just outside their rooms, talking with the women.
The cctv footage stretches from 10 pm till 6 am captured on six cctv cameras.
7:30 pm: The victorious RR team returns to the hotel, and even as other players went to their rooms,
10:15 pm: Ankeet Chavan, holding a gift bag, along with Jiju Janardan knocked at Sreesanth's room. Sreesanth opes the door and walks around in his training gear. As Jiju and Sreesanth continue talking, a Delhi policeman is shown in the footage eavesdropping.
10:25 pm: After taking the gift packet from Chavan, Sreesanth along with Jiju and Chavan meet a woman in a black-tiered lace dress in the foyer. The woman stays outside the room, until two more men join her and the players. Sreesanth goes into his room to change.
10:55 pm: Chavan, Sreesanth and the woman leave th hotel.
2:19 am: Sreesanth is now spotted with a different woman wearing a white and black party dress. Chavan follows them, leading into Sreesanth's room, where they stay for nearly an hour.
3:55 am: Sreesanth returns to the foyer, tumbles and nearly falls and glides along the wall, as Chavan helps the inebriated pacer. The two players disappear from the foyer for two hours.
5:35 am: Sreesanth appears in the foyer alone with a packet in his hand.