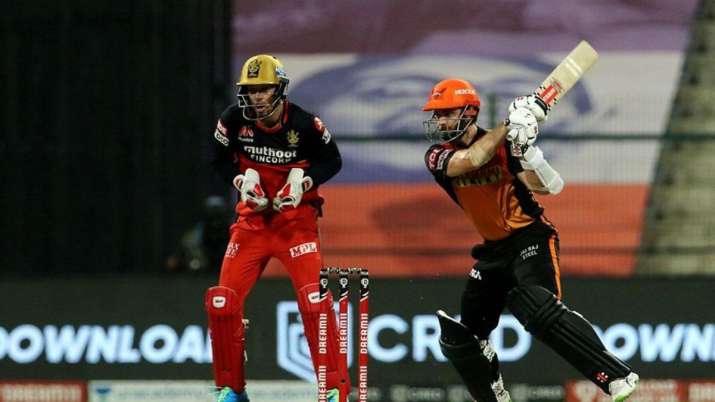 Highlights, Sunrisers Hyderabad vs Royal Challengers Bangalore IPL 2020 Eliminator
SRH vs RCB: 
Hello and welcome to the live coverage of
IPL
2020 Eliminator match Sunrisers Hyderabad vs Royal Challengers Bangalore live on indiatvnews.com. The winner of the match will face Delhi Capitals in the qualifier 2 of IPL 2020. Sunrisers Hyderabad reached the playoff stage in the final match of the league phase after registering a dominating win over Mumbai Indians and will carry the momentum as they take on
Virat Kohli
's side. RCB, meanwhile, lost to Delhi Capitals and will aim to make a strong comeback against SRH in a do-or-die match. The loser gets knocked out of the tournament. Here, you can find the ball-by-ball updates from Sunrisers Hyderabad vs Royal Challengers Bangalore IPL 2020 Eliminator match. 
LIVE STREAMING
Highlights, Sunrisers Hyderabad vs Royal Challengers Bangalore IPL 2020 Eliminator: SRH (132/4 in 19.4 overs) beat RCB (131/7) in Abu Dhabi
23:06 IST: Saini to Holder, FOUR! SUNRISERS HYDERABAD WIN! Kane Williamson and Jason Holder have done it for the Sunrisers Hyderabad! Holder wins it with a four towards deep point. Sunrisers to face Delhi Capitals in the Qualifier 2.
23:03 IST: Saini to Holder, FOUR! Holder has slammed it square of long-off! Saini bowls it right into the slot. 4 needed off 3 balls now.
23:03 IST: Saini to Holder, DOT BALL! 8 needed off 4 balls.
23:02 IST: Saini to Williamson, 1 run, 50 for Williamson! What an innings from the Kiwi captain. But the job is not done yet! 8 needed off 5 balls.
23:01 IST: 9 needed off the final over. Navdeep Saini to bowl.
22:56 IST: Holder to Siraj, FOUR! Thick outside edge as Holder intends to go over long-off. Fortunately for Holder, the third man is inside the circle as ball races towards boundary.
22:55 IST: 18 runs needed off the final two deliveries. Mohammad Siraj to bowl the 19th over.
22:52 IST: Saini to Williamson, FOUR! CHEEKY! Third man and fine leg inside the circle and Williamson simply edges the ball outside off through wicketkeeper.
22:50 IST: Saini to Williamson, FULL TOSS! Williamson has smacked it towards long leg and Padikkal takes a brilliant catch but has to throw the ball away to ensure he doesn't touch the boundary. Catch eventually dropped! How costly is it going to be?
22:46 IST: Dube to Williamson, FOUR! Classy hit and what a time to bring it. A little full from Dube and Williamson has driven it through covers.
22:44 IST: Shivam Dube to bowl the 17th over.
22:40 IST: Chahal to Williamson, SIX! Kane ends Chahal's spell with a six. Much needed boundary in the context of the game, this. Williamson holds the key for SRH's win here. End of over number 16, and both sides go for strategic timeout. 37 runs needed of 24 balls.
22:36 IST: 45 runs needed of 30 deliveries. One over of Chahal remaining. Moeen or Sundar to bowl another before Kohli goes for Saini (2 overs remaining) and Siraj (1 over remaining).
22:31 IST: Sundar to Williamson, SIX! Call it commentator's curse, but this was a wonderful shot from Williamson. Kane had decided to go for the big hit here. Sundar pitches it full and in slot, and Williamson slaps it hard over deep midwicket.
22:30 IST: The pressure is well and truly on SRH now. No boundary in the past seven overs.
22:22 IST: Chahal to Garg, OUT! Garg lands himself in Chahal's trap here. The leg-spinners bowled onto him in the previous few deliveries and keeps this one away from the right hander. Garg succumbs to the width and opens his arms, but fails to clear Zampa at deep cover. 
22:18 IST: The runs have dried for Sunrisers Hyderabad in the last couple of overs. Zampa and Chahal have bowled in tandem since the wicket from Zampa as the duo has conceded only 10 runs in the last three overs.
22:09 IST: Zampa to Pandey, OUT! Poor shot selection. Wide outside off from Zampa and Pandey opts to make room and cuts it, but Zampa pitches the ball a little full. Game on!
22:04 IST: Tidy over from Adam Zampa, as he concedes only one run off his first. 
21:58 IST: Siraj to Williamson, FOUR! Leg-bye! Siraj must be furious with his delivery. Almost bowls down the leg and the ball deflects past Williamson's thigh pad for a boundary towards deep fine leg.
21:51 IST: Siraj to Warner, APPEAL FOR CAUGHT BEHIND! Virat Kohli takes the DRS. This is close. The ball seemed to have caressed past David Warner's gloves as it cuts him in half at an awkward angle. Third umpire takes a long look through various angles before adjudging Warner out. Warner dismissed!
21:50 IST: Siraj to Warner, FOUR! Poor delivery from Siraj. Gives Warner enough room outside off to play his favourite cut shot. Warner is finding his groove after a slow start.
21:46 IST: Sundar to Pandey, FOUR! Little quick from Sundar and Pandey gets into the position quickly. Little outside off and again, Pandey simply guides it to cover boundary.
21:44 IST: Sundar to Warner, FOUR! The SRH captain welcomes Washington Sundar with a boundary. Sundar keeps it on length and Warner makes room for himself as he cuts it square between point and covers.
21:42 IST: Saini to Pandey, FOUR! Into the slot, this one. Full and outside off and Pandey only needed to guide this shot for a drive through covers.
21:39 IST: Saini to Pandey, FOUR! A little full from Siraj and Pandey directs it to mid-off. Just bounces ahead of Dube at the position and the ball goes past between his hands. Poor effort.
21:36 IST: Siraj to Pandey, SIX! Pressure-releasing stroke, this. Back of the length delivery onto the chest and Pandey has pulled it brilliantly over deep midwicket for SRH's first boundary.
21:33 IST: Brilliant line from Navdeep Saini throughout the over. Almost trapped Manish Pandey with a short-pitched ball as Pandey opts to loft it to third man, where a fielder was placed. Doesn't give much room to Warner to play with.
21:25 IST: Siraj to Goswami, OUT! Gets the outside edge on floated seam, length delivery outside off and AB de Villiers take an impressive catch behind the wickets! Just the start SRH needed.
21:22 IST: The players return for the chase. David Warner and Shreevats Goswami open for SRH, Mohammad Siraj to bowl with the new ball.
21:10 IST: It was a brilliant performance from SRH bowlers throughout the innings, as they never let their guard down. Finch and de Villiers did look to rebuild after the opening order of Virat Kohi and Devdutt Padikkal was dismissed early, but even then, the tight lines and lengths didn't allow the duo to open their arms and go for the biggies. RCB will need a herculean effort to make a game out of this total.
21:07 IST: Natarajan to Siraj, FOUR! Siraj was already in position for a lap shot as Natarajan goes full. Gets a four behind the keeper.
21:05 IST: Natarajan to Saini, FOUR! Offers width and Saini opens his arms to send the ball away towards deep backward point. 
20:57 IST: Natarajan to de Villiers, OUT! BOWLED! WHAT A YORKER! Bulls eye. Natarajan made his name as the Yorker Machine in the IPL, and he lives up to the reputation by removing the dangerous AB de Villiers with a yorker onto middle-stump.
20:53 IST: Natarajan to Sundar, OUT! Sundar goes for the big hit and even times a fuller delivery outside off strongly, but the ball goes straight to Abdul Samad at deep square leg.
20:49 IST: Sandeep Sharma ends with figures of 4-0-21-0. Excellent bowling at the big stage. 
20:47 IST: Holder to de Villiers, FOUR! 50 FOR AB DE VILLIERS! Tries the slower ball onto the toes again but de Villiers was ready. He has pushed it towards the empty deep midwicket area.
20:42 IST: Holder to Dube, OUT! Slower one does the trick again. Holder keeps it on the toes and Dube tries to get to the bottom of the ball and steer it to fine leg, but gets a thick outside-edge. The ball lofts to mid-off instead, as he is caught.
20:37 IST: Rashid to de Villiers, FOUR! Plays with the turn towards deep fine leg. A brave shot against Rashid but it reaps the reward.
20:32 IST: Natarajan to de Villiers, FOUR! Slapped it over covers. Makes room for himself, AB, and gets to open his arms on a delivery outside off.
20:30 IST: A run-out on a free hit - RCB finding news ways to implode..
20:27 IST: Nadeem to de Villiers, FOUR! Gets on the backfoot to a short-pitched ball and pulls it towards cow corner. Good effort from Jason Holder but he fails to save.
20:21 IST: Nadeem to Ali, RUN OUT! RASHID KHAN, WOW! Moeen Ali is run out on a free hit! Couldn't time it well and Rashid collects the delivery at silly mid off. AB had already started for a run but Ali reacts late. Rashid throws a direct hit at non-striker's end as RCB lose another key wicket.
20:17 IST: Nadeem to Finch, OUT! Finch wanted to clear the cover boundary but fails to time it. Gets a thick outside edge and the ball sails into the nightsky but fails to find the distance. Caught at deep cover
20:13 IST: Rashid to Finch, SIX! First maximum of the innings! Rashid keeps it full and Finch takes the full advantage of the occasional poor ball. Slams it over the long-on boundary.
20:08 IST: Strategic Timeout!Finch and de Villiers are slowly steering RCB out of the troubled waters. Dealing in singles and doubles to keep the scoreboard ticking. Need to up the ante now, however. SRH still remain at the top as we move towards the second half of RCB innings.
19:58 IST: Natarajan to Finch, FOUR! Gets a thick outside-edge but thankfully, the ball remains grounded and sails through the gap between backward point and fly slip.
19:57 IST: Aaron Finch and AB de Villiers focusing more on strike-rotation at the moment, which makes sense. The duo needs to stay for a long time to bring RCB back in this game.
19:53 IST: Sharma to Finch, FOUR! Much needed boundary from Finch here. A little short and the Aussie batsman goes on the backfoot and punches it towards covers.
19:46 IST: Holder to Padikkal, OUT! BIG BLOW! A little slower and short, and Padikkal completely fails to time this one. He goes for the pull over deep square leg but Priyam Garg timed his jump to perfection at the square leg position.
19:45 IST: Holder to Finch, FOUR! For once, Finch doesn't move much on the crease and stays in his position. Result? Finch gets the ball in his zone as he shifts weight on his right leg to pull the delivery towards long leg. First boundary for RCB on the 19th delivery of the innings.
19:43 IST: RCB still searching for their first boundary as the first three overs are bowled. Excellent line and length from Sandeep Sharma so far, as he refuses to provide enough room and keeping it on length for Padikkal who often likes to play the flick.
19:36 IST: Holder to Kohli, OUT! Survives Sandeep but gifts away a wicket to Holder! This one was going down the leg side and Kohli wanted to guide this to deep fine leg. The ball caresses his gloves and Goswami takes a good catch behind the stumps. Big blow!
19:34 IST: Kohli aiming to negate the effect of swing with significant foot movement. Also, he's not taking on Sharma and instead opting to guide the ball. Good strategy from the RCB captain.
19:33 IST: Kohli's stats against Sandeep Sharma:
50 balls
69 runs
Seven dismissals
19:29 IST: Virat Kohli opens for Royal Challengers Bangalore. Devdutt Padikkal at the other end as RCB captain takes strike.
19:20 IST: RCB have gone with four spinners in their lineup, and they bat second. With dew coming in, this could be a bad toss to lose for Virat Kohli. However, the absence of Wriddhiman Saha is a silver lining for RCB.
19:11 IST: Virat Kohli: It could go both ways, we would have bowled first. But runs on the board could prove crucial. The last game opened up completely, when you haven't qualified, the nerves will come. It's an exciting time, it's been a leasure to play here.The seniors will have to take up responsibility, let the youngsters play freely.
19:07 IST: PLAYING XIs
Royal Challengers Bangalore: Aaron Finch, Devdutt Padikkal, Virat Kohli(c), AB de Villiers(w), Moeen Ali, Washington Sundar, Shivam Dube, Navdeep Saini, Adam Zampa, Mohammed Siraj, Yuzvendra Chahal
Sunrisers Hyderabad: David Warner(c), Shreevats Goswami(w), Manish Pandey, Kane Williamson, Priyam Garg, Jason Holder, Abdul Samad, Rashid Khan, Shahbaz Nadeem, Sandeep Sharma, T Natarajan
19:06 IST: David Warner: We will bowl first. Dew could play an effect, the last couple of games say so. But the wicket will not change a lot. We are under no pressure, it already started a couple of games back. Unfortunately Saha misses out with an injury, Goswami replaces him. The trophy means a lot for us, the owners and the fans back home.
19:03 IST: Chris Morris misses out for RCB with injury too, with Adam Zampa replacing him. Josh Philippe also makes way for Aaron Finch. Moeen Ali also returns for RCB in place of Isuru Udana. 
19:02 IST: Wriddhiman Saha misses out for SRH with injury.
19:00 IST: TOSS UPDATE! IPL 2020, Eliminator: Sunrisers Hyderabad win toss, opt to bowl against Royal Challengers Bangalore in Abu Dhabi
18:50 IST: Sandeep Sharma stands in the way of Virat Kohli today. The bowler has dismissed Kohli on seven occasions in IPL history -- including in the last game.
18:45 IST: Virat Kohli will be aiming to end a string of low scores tonight, as RCB face a do-or-die game.
18:30 IST: The leg-spin twins who hold the key to their respective sides' success tonight. While Yuzvendra Chahal has taken 20 wickets in the tournament so far, Rashid remains only one wicket behind.
18:00 IST: Hello and welcome to the live coverage of the IPL 2020 Eliminator match Sunrisers Hyderabad vs Royal Challengers Bangalore on indiatvnews.com. The winner goes to Qualifier 2, the loser gets knocked out.
Brief Preview: They have incurred a topsy-turvy season, owing to a spate of injuries, but SunRisers Hyderabad bounced back when it mattered the most, winning four of their last five games including each of their last three. Royal Challengers Bangalore peaked high in the first half of the season, but crashed low towards the fag end losing all four of their games in IPL 2020. Yet on Friday, all these numbers won't matter, for one defeat, for either side, and their IPL journey will be over for this season. [FULL PREVIEW]