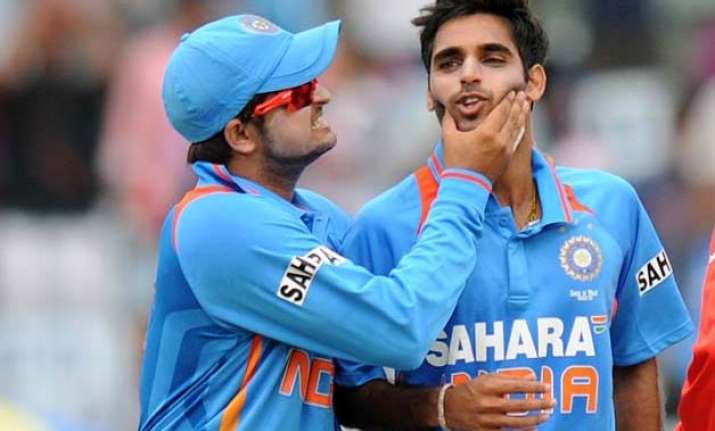 Rajkot: The much-maligned Indian Premier League (IPL) today got a dose of positive response when swing bowler Bhuvneshwar Kumar credited the T20 League for improving him as a bowler at the death in limited overs cricket.
"IPL has helped me in improving my death bowling. I have been bowling the first few overs with new ball and at the end with the old one," said the India medium pacer ahead of tomorrow's third One-Day International against South Africa here tomorrow.
India levelled the series 1-1 at Indore after having lost the series opener to the visitors at Kanpur, and Bhuvneshwar did his bit towards this cause with excellent figures of 3 for 41.
He also rejected suggestions that he has lost the ability to move the ball in the air.
"I don't think so. The ball swings only in the first 1 to 3 overs. If conditions are favourable, I can swing the ball more. I don't think I have lost any swing. And death bowling has given me confidence," said the Uttar Pradesh player.
"I don't think there has been a change in my bowling role. Being a swing bowler, bowling at the death is just an added facet in my bowling. I used to bowl a lot at the death while bowling in the IPL but it serves as a confidence booster that I can do a lot more with the ball at the start of the innings and at the death. It is good to bowl with the new ball and the old ball," he added.
Asked about the flat tracks on which the series is being played, Kumar said he and his other bowling mates did not read too much into the wickets and have grown in confidence after helping the team defend a small total of 247 in the previous game.
"As bowlers we don't worry about the wickets whether they are flat or not. We are very confident after the way we bowled in the last match. They are a good side and we have plans for every individual.
"On spinners set up the game for you/what is your role in the side he said, adding, "If you see the spinners and pacers are complementing each other really well. As a bowling unit you get a lot of confidence if the spinners and pacers are bowling as a team."
"If the medium pacers are having a tough time, the spinners do a good job to restrict the runs and pick wickets.
There is overall support from all the bowlers," he added.