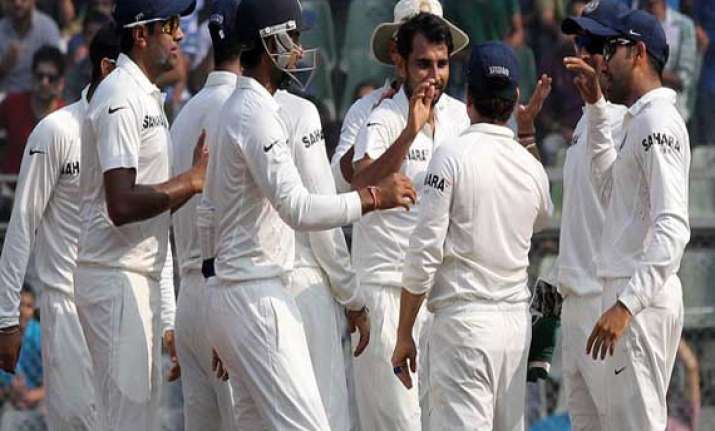 Derbyshire:  Indian batsmen and bowlers warmed up with a morale-boosting five-wicket win against Derbyshire in their second three-day tour game here today, ahead of the first Test against England in Nottingham starting July 9.
Chasing 142 for a win after a sporting second innings declaration on Day 3 -- 156 for three in 45 overs—by Derbyshire, India lost Shikhar Dhawan (9) early but cantered to their target in 36.3 overs.
Most of the Indian batsmen had valuable outings in the middle as they prepared for the gruelling five-match Test series.
Murali Vijay retired out after contributing 41 runs in 53 deliveries and stitching a 63-run second-wicket partnership with Ajinkya Rahane, who also retired out after scoring 39.
Rohit Sharma though missed out on an opportunity to spend some valuable time in the middle after falling to Derbyshire left-arm spinner David Wainwright for 10. Wriddhiman Saha looked set on 19 before being picked by left-arm pacer Greg Cork.
Comeback-man Gautam Gambhir (21 not out) and Ravindra Jadeja (0 not out) then took the visiting team to its target with more than half-an-hour left in the final day's play.
Earlier in the day, the Indian bowlers had opted for some bowling practice after declaring their innings on the overnight score of 341 for six but Derbyshire, lying second from the bottom of the Division 2 County table, surprised the visitors by inviting them to have a go at victory.
Medium-pacer Matt Higginbottom (1/20) then justified his captain's decision by trapping Dhawan lbw in the fourth over of the innings but Rahane and Vijay ensured a smooth sail for the visitors.
This was after Mohammad Shami (1/39) had recovered from his suspected calf strain and bowled 11 overs, trapping Derbyshire opener Paul Borrington (29) LBW after lunch.