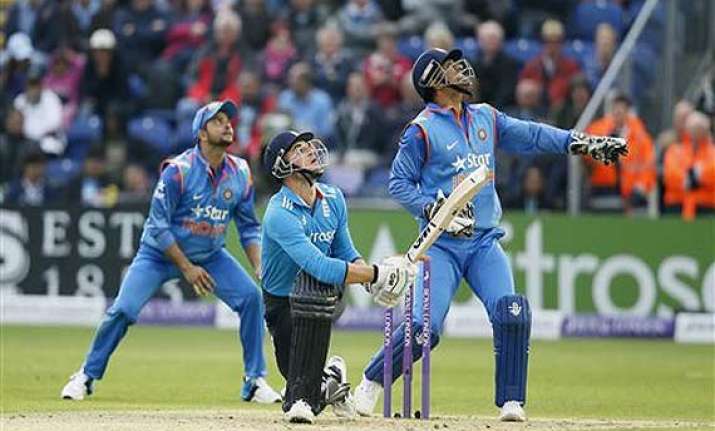 Nottingham:  England skipper Alastair Cook has blamed his batsmen for the six-wicket loss to India in the third ODI here, saying that someone in the top order will have to score big for the others to make noteworthy contributions.
Yesterday's loss came close on the heels of the 133-run (D/L) defeat in Cardiff as the visitors took a 2-0 lead in the five-match series. "In one-day cricket, you can turn it around very quickly, but it starts with individual responsibility," said Cook.
     
"It will take someone to score that hundred and everyone will jump on the back of that, you get 330 on the board and you win a game of cricket and it changes. That's what we need and we need a top-order batter to do that."
     
England were 82/0 at one stage and then collapsed to 227 all out in 50 overs, their 10 wickets falling for just 145 runs. "With the platform of 80-odd for 0 after 16 or 17 overs you tend to get big scores. If you keep going at that rate and keep wickets in hand, you can catch-up later on. But you have to lay the platform in the right way," Cook said.
     
"Everyone keeps talking about more power at the top.  We were 50-odd off 10 overs the other day and today we were 50-odd off nine overs. We are getting good starts. The problem is that 40 was our top score at Cardiff and 44 was our top score here, and you're not winning games of cricket when you do that," he added.
     
The Indian spinners played their part as well sharing six wickets among them. R Ashwin led the way with a haul of 3-39 while Ravindra Jadeja, Suresh Raina and Ambati Rayudu took a wicket each as well.
     
"I don't think anyone who looked at that wicket this morning thought it was going to turn as much as that. But no, we didn't play the spin very well. Ashwin and Jadeja are very good at one-day cricket spin bowling. We
     
"had a few soft dismissals and a few good balls as well. Every time you tried to build a partnership, you lost wickets, and that obviously keeps holding you back if you want to play aggressively," said the skipper.