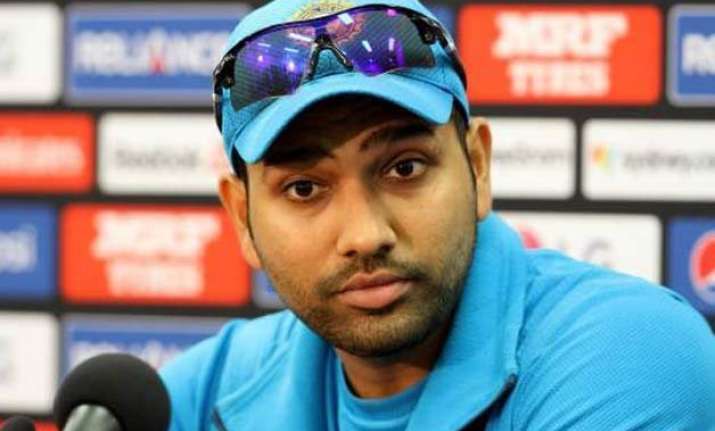 Indore: Consistency is key to any team's success and opening batsman Rohit Sharma on Tuesday asserted that India cannot afford to commit small mistakes often if they aspire to be the numero uno cricket team in the world.
Currently ranked No 2 in ODIs, India were snatched defeat from the jaws of victory in the one-day series opener in Kanpur by succumbing to a close five-run loss against South Africa in a high-scoring affair.
Rohit said although India's death bowling and match finishing abilities were a concern, the players are mature enough to make a comeback in the series.
"Things like this can happen but there are no excuses. We want to strive hard as a team. If we want to be the No 1 team we cannot commit these kinds of mistakes. I hope we won't keep repeating the same mistakes, that's what a champion side doesn't do. We all are mature enough to go handle such situations," Rohit, who struck a swashbuckling 150 in India's losing cause in the first ODI, said.
Indian bowlers bled runs at the death, giving away more than 100 runs in the last 10 overs with South Africa ODI skipper AB de Villers going hammer and tongs.
Asked Rohit about India's bowling woes, he said Umesh Yadav and Co need to be smart and proactive against destructive batsmen like de Villiers. "It's (death bowling) a concern, there is no doubt about it. We cannot run away from that but when you are bowling to a player like de Villiers you need to be extra smart, and be more proactive. It's a concern but all the bowlers are working on it. In the last few games, not only against South Africa but in Bangladesh and Australia as well we made small, small mistakes in the last five overs," he said.
While he himself has been in rollicking form of late, his opening partner Shikhar Dhawan is going through a lean patch, but Rohit feels the left-hander will come good soon.
"Shikhar was the highest run getter for us in the World Cup. He was the highest run getter in Bangladesh. A couple of games shouldn't be a worry," Rohit said.
Over the years, Rohit has developed a habit of scoring crucial runs and he said it has been his conscious effort to play big innings all over the world.
"It's not just about batting in India. I want to bat as much as possible anywhere not just in India. I want to keep going. Being a top-order batsman it's a big responsibility to bat through the innings and get the team to a winning position. India is home so you know the conditions better than any other place in the world. That's a slight advantage when you play in India," the Mumbai batsman said.
"Whenever you bat you try to make the most out of it. For the past few years it has been my effort to bat for as long as possible anywhere in the world.
After you get to 100, you tend to relax a little bit and lose your concentration. That's the time you can challenge yourself as a batsman that how long you can continue. That's what I was trying to do, especially on a wicket like Kanpur. We knew that it was not going to be easy for a new batsman to come in and start playing shots," Rohit said.
Rohit was also all praise for Ajinkya Rahane, with whom he shared a 149-run stand for the second wicket in Kanpur.
"Rahane was playing his first game. He was batting at a new position. I felt he batted pretty well. He complemented me very well. Coming from the same state we played our cricket together so we know each other's game well. He got off to a very good start and I am sure he would like to continue and score more runs," Rohit said about Rahane, who scored 60 in the first ODI after returning to the side.
Also Read: Ajinkya Rahane is a far better player than Ambati Rayudu: Azharuddin
With the adoption of new rules of five fielders outside the circle in the last 10 overs, Rohit feels any team chasing a challenging total will have to keep up with the asking rate throughout the innings.
"When you are chasing a big score you have to be ahead of the run rate. So it's very important to keep rotating the strike so that pressure doesn't build up too much. Now with new rules coming in with five fielders outside you can't keep too many runs for the last five, six overs," he said.
"That was the idea when me and Rahane were batting (in Kanpur). We did that pretty well but I still feel we should have upped the ante a little more," he added.
In Kanpur ODI, India sent Rahane at No 3 position in place of vice-captain Virat Kohli and Rohit said time will tell whether the team would continue with this batting line-up in the upcoming matches.
"It's (batting order) a thought we need to look into carefully. It really depends on what MS (Dhoni) thinks about it. I know Virat (Kohli) has scored most of his runs batting at No 3 and now Ajinkya (Rahane) has got in at No 3 and scored some runs. I don't know whether it's a permanent solution, time will only tell what will be the ideal batting line up for us. No 3, 4 and 5 are very crucial positions in any format. Whatever is decided it will be best for the team," Rohit said.
Talking about Tuesday's game, Rohit expects the second ODI to be a high-scoring affair as has been the norm here at the Holkar Stadium. "The wicket looks good. High scoring games have been a trend here. In the last match we played here, Virender Sehwag got a double hundred. It is a high scoring ground," he said.
"It looks like a very good track. Average score here is around 300. That will be a benchmark again. If you bat well, you might end getting over 350 also," Rohit concluded.