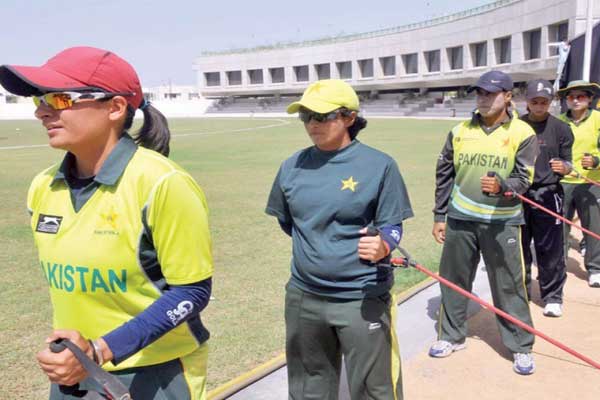 Karachi, Jan 26: The Pakistani women's team will be leaving for India today to take part in the ICC World Cup with captain Sana Mir saying her side is ready to face all odds and challenges. 
The BCCI  was forced to move Pakistan team's matches from Mumbai to Cuttack due to strong opposition from Shiv Sena amidst their protests over cross-border tensions.
The team wrapped up its 10-day training camp in Murdike on Friday with a practice match against a local side.  
Captain Sana Mir swaid. the ICC  One-Day International (ODI) rule changes are the only worry for her side ahead of the World Cup.
"We are pondering how to tackle with the rule changes," Sana told The Express Tribune on the eve of the last day of their training camp.  
"We have not played an ODI since the rule changes were implemented in October last year. This is our only concern otherwise we are completely ready for the tournament.  
"As far as reports of security threats are concerned, we are not even looking at such reports and are focusing solely on the tournament.  
"Our job as cricketers is just to play for our country; security issues would be dealt by the ICC and the Indian board."
Sana – who received the Pakistan Cricket Board's women cricketer of the year award – said she was aiming to lead from the front.
"I know my performance is crucial and I am looking to play my leading role."
Meanwhile, team coach Mohtashim Rasheed said the girls were highly motivated ahead of the tournament.
"This team is ascending and is high on confidence," said Rasheed. "We will look to win every match. Claiming the title is our ultimate aim."
"They underwent extensive training despite rain. Pakistan head coach Dav Whatmore and fielding coach Julien Fountain also gave valuable tips.
Lectures with [psychologist] Maqbool Babri were also very beneficial. The inclusion of Basit Ali as batting consultant is a big advantage as our batters will gain a lot in his presence. In short, I can say we are absolutely ready for the World Cup."
Pakistan will play their first Group B match against Australia on February 1 in Tangi near Cuttack. New Zealand and South Africa are the other teams in the group.