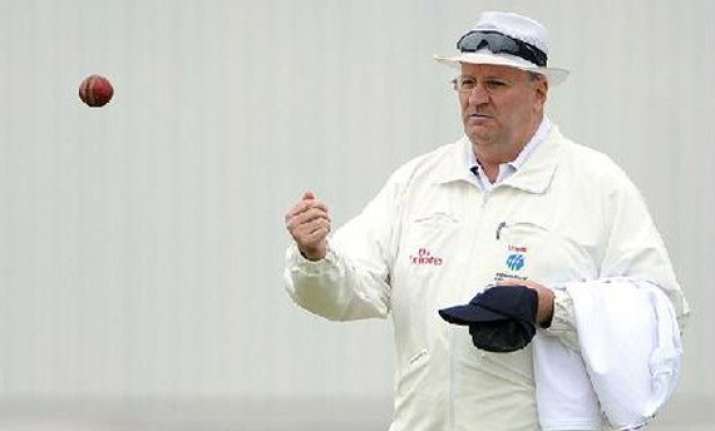 Sydney: The ICC crackdown on bowlers with suspect action has come 20 years too late, says former international umpire Darrell Hair, who famously called Sri Lankan great Muttiah Muralitharan for alleged chucking during a Test in Melbourne in 1995.
"Whatever they're doing now, they're doing 20 years too late," Hair was quoted as saying by the Sydney Morning Herald.
Hair feels the world body has allowed "chuckers" to flourish.
"They (the ICC) had a chance in 1995 to clean things up and it's taken them 19 years to finally come back and say they want chuckers out of the game. I can't believe that Saeed Ajmal has been able to bowl as long as he has, and they say he is bending his arm by 45 degrees (the legal limit is 15 degrees) or something.
"Well, every man and his dog would have known that. I suppose what it does show is the general weakness of the umpires over time to do anything about it," said the Australian who officiated in 78 Tests and 139 ODIs.
The ICC reported Pakistan's prolific spinner Ajmal for suspect action in August while West Indies off-spinner Sunil Narine was reported during the recently held Champions League T20 tournament.
Recalling the Boxing Day Test incident in 1995 when Muralitharan no-balled Muralitharan for an illegal action, Hair said: "People say 'you should be happy with the way things turned out'...With the chuckers being weeded out. But it doesn't give me any personal satisfaction whatsoever," he said.
"All I was doing at any time was just doing my job and I think I did it to the best of my ability. The fact was that no other ICC umpires were willing to have a go. Ross Emerson was very adamant about his thoughts about chuckers but they soon put him into the background," the 62-year-old added.
Muralitharan was called again in Australia by Emerson during an ODI in 1999. His action was later cleared and he went on to become of the game' greats.
Hair said the likes of Muralitharan, Harbhajan Singh and Saqlain Mushtaq got away lightly.
"I said it in the late '90s that if something wasn't done about it you'd have a generation of chuckers on your hands and now you have. They try to emulate Harbajan Singh and Saqlain Mushtaq and Murali and that's the problem. The crackdown should have happened on those players and the ICC should have let it be known that it wasn't acceptable," he added.