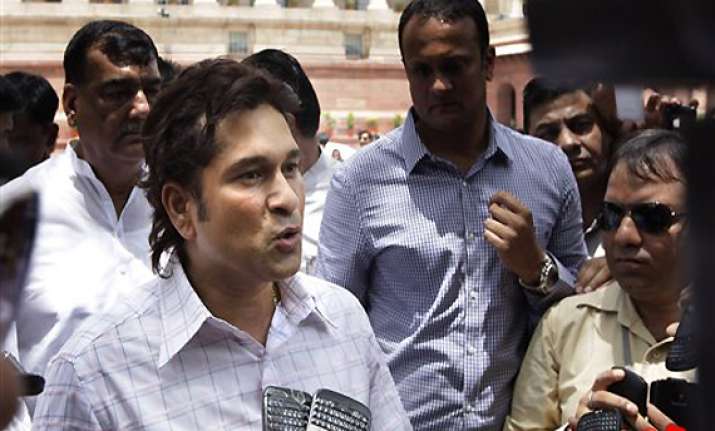 New Delhi, Jun 22: Known as a person of few words whose cricketing bat does all the talking, Sachin Tendulkar today said that he would not indulge in shouting in the Rajya Sabha as he would make his point across in a polite way.
Tendulkar, who recently took oath as a Rajya Sabha member, said that he would express his views politely and not indulge in shouting to make his point, a practice adopted by many parliamentarians these days.
"No I don't think I need to shout and I hope, you know, that no one will make me shout. Why should one be shouting? You can politely put your point across and say whatever you have to, and then, whatever happens, happens," Tendulkar told a TV news channel.
The batting great was recently nominated to the Rajya Sabha for his achievement in cricket.
Tendulkar gave words of encouragement to the Indian contingent for next month's London Olympics, saying that they should give their best shot to bring laurels for the country.
"I pray to God that they get all the strength and that they go out there and perform and express themselves, and all I can say is just enjoy yourselves and the rest will follow. They've really worked hard for a number of years now and yes, the expectations are there, but who wants to go there and fail?" he asked.
"They are all going out there to give their best and get medals for India and that would be just unbelievable, more the better. So, all the very best and whether you bring back medals or not, what matters is your effort and we are very proud of you," said Tendulkar, the world's highest run-getter in both Test and ODIs.