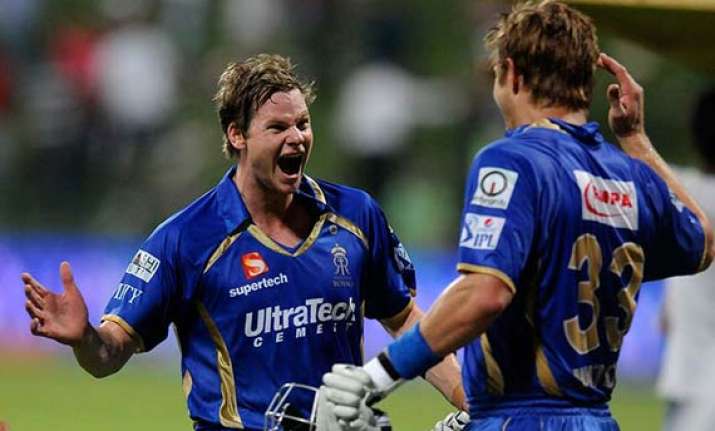 Mumbai: Young Australian batsman Steven Smith, who is playing for Rajasthan Royals in this season's Indian Premier League, feels he has matured as a Test batsman but is also eager to regain his spot in his country's limited overs team.
"When I first started playing I played as a spinner and then when I got the opportunity as a batsman I was not quite ready either. To come back a couple of years later with a bit more experience and few more big runs has benefited me a lot," the 24-year-old Smith told PTI while responding to a questionnaire.
"Over the last couple of years it's been a big development. I have been trying to get my batting right in all three forms of the game. I think I proved myself a little bit in Test cricket and I will work myself into ODIs and T20, it's not too far away," he said.
"I was a little bit disappointed (at not being part of the Australian World T20 squad). But I have plenty of time to keep playing all three formats. It was nice to get a little bit of rest and prepare for the next 18 months," he added.
Smith, who started his career as a leg break bowler but has now become a batsman-all rounder, feels he belongs to the Test level after waiting for 12 games to get his first hundred, an unbeaten 138 against England in the Ashes Test at the Oval in August last year.
"To me, I guess, a sense of belonging was there. I worked very hard on my game for the last 18 months. To get a couple of hundreds under my belt makes me feel I belong (to Test level). I worked hard on tightening up my technique, to become more patient when batting in Tests and it has paid off recently."
Smith has added three more tons after his maiden hundred, in the space of four Tests - and one of them came against South Africa at Centurion in February.
Talking about his time with his new
IPL
franchise after having played for the disbanded Pune Warriors, Smith said he had heard a lot about the Royals and was finding it an exciting new beginning.
"I am excited. I was successful in the time I was there (with the Warriors). Was looking for a fresh start. Had heard lots about Rajasthan Royals as a very well organised and tight group. Since I have been here it has been really good."
Asked about the Royals' season so far, Smith said the team had started well in the UAE leg.
"We were in a pretty good spot coming to India after having 3-2 in UAE and are playing some good cricket. We hope to carry on the momentum we started with."
He was also happy to play under compatriot Shane Watson.
"Shane is a quality player and is probably one of the most feared batsmen in world cricket, particularly in this format of game. He can clear the fence at will."
Smith said he had concentrated more on batting in the recent past but was willing to take more responsibility by complementing it with his bowling.
"I was trying to get things right with my batting. I am trying to bowl a lot more. I did a litle bit of bowling in the South Africa Test series, got a couple of wickets and a couple in the Ashes (agains England at home).
"I have started to bowl more and am ready to bowl if called upon. I would try to get the best for my team. To bowl here and there and to take a few wickets when called upon is nice," he added.