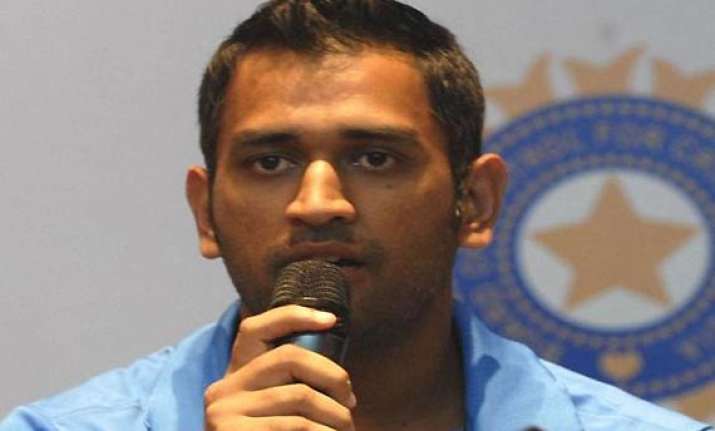 Pune: India skipper Mahendra Singh Dhoni was disappointed with his team's overall batting and bowling display after losing the first ODI against Australia by 72 runs here, but said he did not want to single out players.
"I don't want to single out any player. Our batting as well as bowling was not up to the mark. It was not a 300-plus track, and we gave width to their batsmen. Our spinners brought us back into the game. Jadeja bowled well and Yuvraj struck at an important time, but we did not execute our plans," said Dhoni at his post-match press conference.
Chasing 305 for a win, India folded up for 232 in the last over.
Dhoni said while starting the run chase, the team was confident though it lost an early wicket—that of
Shikhar Dhawan
—as
Rohit Sharma
(42) and
Virat Kohli
(61) had a substantial partnership.
"But we lost too many wickets in the middle overs. We did not have enough partnerships We need to convert out 40s and 50s into bigger scores," said Dhoni.
Asked why
Suresh Raina
was sent up the order at number four instead of Yuvraj, Dhoni said the team wanted the former to get used to bat in this position looking ahead of the 2015 World Cup.
"We don't have anyone other than Yuvraj who can bat at this position. We want to give opportunity to Raina to bat at number four and get used to it."
Dhoni complimented Australia for executing their plans well.
"They executed their plans very well and we did not do ours," he emphasized.
He, however, did not agree to a suggestion that the Indian batsmen once again showed their weakness against short, rising deliveries from the Australians.
"There are no weaknesses against the short ball. We did well in the Champions Trophy and in the series against the West Indies. Let's not go there again," he pleaded.