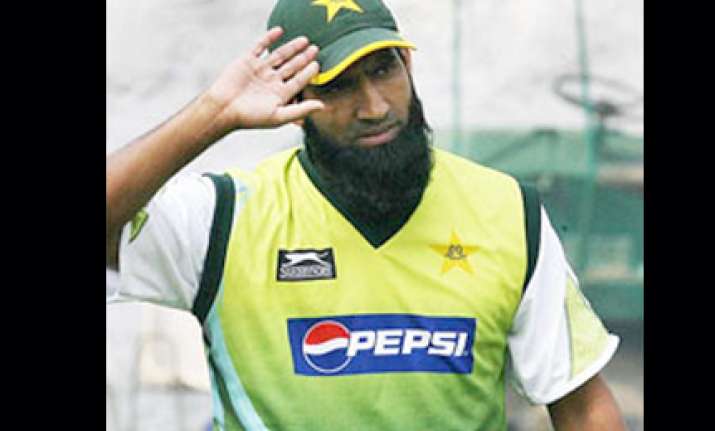 Mohammad Yousuf, former captain and one of Pakistan's most prolific middle-order batsmen, today announced his retirement from international cricket, blaming the country's cricket establishment for forcing him to take this decision.
"I have decided to retire from international cricket now, given the conditions I have faced in recent times," Yousuf told a press conference at the Karachi Press Club on Monday . 
Thirty-five-year-old Yousuf was the captain on Pakistan's recent tours to New Zealand and Australia where the team lost heavily after which the Pakistan Cricket Board set up an inquiry committee to probe into the team's poor performances. The committee recommended indefinite bans on Yousuf and his predecessor Younus Khan, charging them with infighting and bringing the team morale down. 
"The board sent me a letter stating that I have been a disruptive influence on the team in Australia. So I feel that it is better that I retire," Yousuf said. "I have always given my best for my country and I don't want to play and cause problems in the team so it is better I retire now," he added. 
Yousuf, who refused to take any questions at the press conference, said that he would continue to play domestic cricket and in foreign leagues as he didn't want to lose contact with the game. "The Board has not given me a chance to defend myself and I have just been charged with something that has disheartened me," said the top order batsman. 
After the debacle in New Zealand and Australia, the PCB took unprecedented steps - barring Yousuf and Younus definitely, slapping one-year ban on Shoaib Malik and Rana Naved-ul-Hasan and imposing fine, apart from six months' probation, on Kamran and Umar Akmal and Shahid Afridi.  Yousuf has been Pakistan's batting mainstay for quite a while. 
 The right-hander, then a Christian called Yousuf Youhana, made his Test debut in Johannesburg in 1998 and went on to play 88 Tests, amassing 7431 runs at an average of 53.07. He played 282 ODIs as well, scoring 9624 runs with an average of 42.39. Yousuf's career hit a roadblock after he joined the breakaway Indian Cricket League before he eventually returned to mainstream cricket. PTI