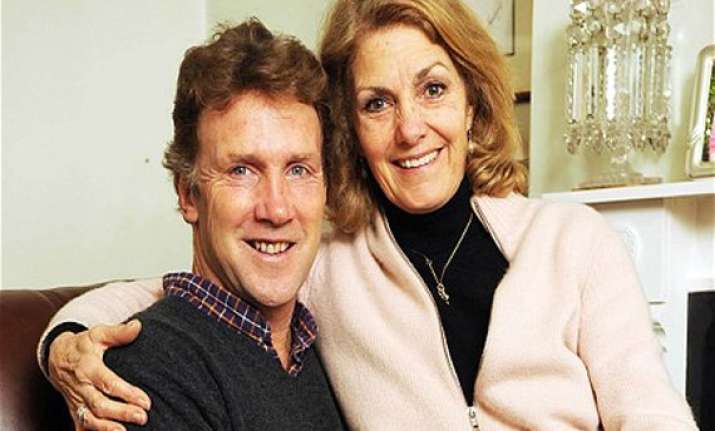 New Delhi: For Rosemarie's fiance is former England cricketer Chris Broad, whose wife Michelle — known to friends as Miche — committed suicide four years ago. It was a heartbreaking decision made as she fought the cruel neurological condition motor neurone disease (MND) — focus of the current 'ice bucket challenge' campaign
Their relationship was kept firmly under wraps for four years.
The subject of malicious gossip, tittle-tattle and rumours, Rosemarie felt she couldn't even acknowledge her love, let alone shout about it from the rooftops, as she's so proud to do now.
.What drove Chris and Rosemarie to keep their relationship quiet is that they met just two weeks after Miche's funeral, a fact they knew many would recoil from.
It meant that Chris, father of current England player Stuart, wouldn't ever talk about Rosemarie in interviews, let alone agree to be pictured with her.
Only now, more than a year after their engagement, are they finally ready to share their good news with the world.
For what they haven't revealed to those who've judged them — and there have been many over the years — is that their relationship received the blessing of Miche herself, long before she died.
The remarkably brave 60-year-old had pointedly asked her friends to find her husband a new girlfriend — and unknown to Chris, one friend had Rosemarie firmly in mind.
Miche knew that I'm not someone who is good on my own,' he says. 'She wanted me to be happy. And we are happy, so why shouldn't we crow about it?'
Rosemarie agrees: 'We're just so comfortable with each other. And so we decided it was about time I came out of the woodwork.'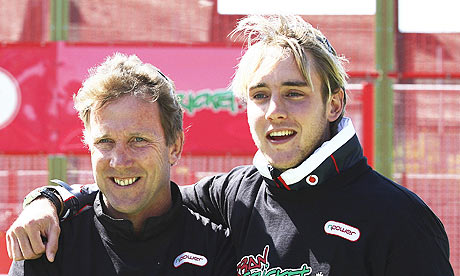 Chris, 56, and Rosemarie, 51, were introduced — or set up, as they now realise — by their mutual friend Mandy Shepherd in the summer of 2010.
'Chris had known Mandy for 25 years, and I had been good friends with her for two, since we began working together in a job-share at an architect's firm,' explains Rosemarie.
She orchestrated a meeting on August 17, just six weeks after Miche died, and two weeks after her funeral.
Understandably Chris says a relationship was the last thing on his mind. Over the previous year, he'd watched MND taking its terrible toll on his wife, robbing her of the ability to talk or eat.
It was he who had found her after she took a lethal overdose because, as she'd said many times, she 'didn't want to be a burden'.
As for Rosemarie, when Chris walked in the room on the day they first met, she saw nothing more than a quiet, dignified man picking himself up, and getting on with his life.
Last week, she and Chris took part in the Ice Bucket Challenge to raise money to fight the disease.
'Sometimes it is hard for me,' she admits. 'Usually, when someone is dead they are in the past, but Miche is never completely in the past because of the charity. But I accept that the charity is a big part of Chris's life, and it's something that I very actively support.'
Chris is sure Miche would be delighted that he is with Rosemarie.
'I think in some ways they are fairly similar. Rosemarie is also someone who has a love of life and who likes to laugh. Miche would be happy that I am happy.'