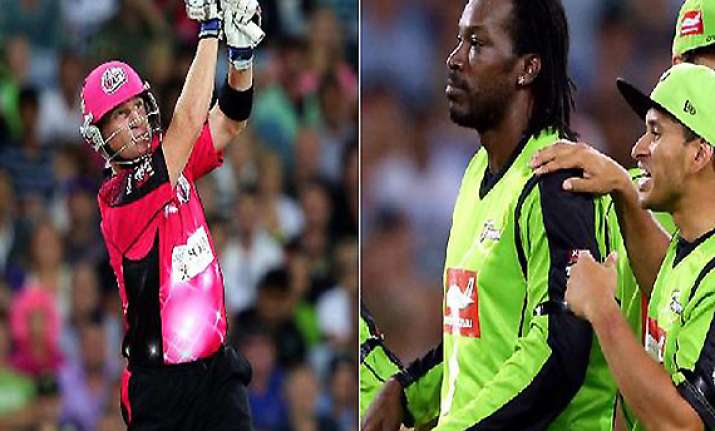 Port of Spain, Aug 9: Two of the world's top cricketers, Chris Gayle and Dwayne Bravo, say franchises, rather than national teams, are a better way to further develop the game in the region.
Gayle and Bravo are members of two of the six franchises battling for top honours in the current Caribbean Premier League (CPL) which has attracted leading players from the region and overseas.
"It's a good concept and judging by what I have seen so far, it is working," said Gayle, captain of the Jamaica Tallawahs.
"Players, especially young players, are getting the opportunity to see what it is like to play club cricket at a professional level, and this can only be good for the development of the game going forward."
Gayle believes that it was necessary for West Indies as World T20 champions introduce a competition in the shortest format.
"It (franchising) is happening all over the world and we are seeing how it is having a positive impact on their national Twenty20 teams," Gayle pointed out.
"Several young, talented players are not only getting the chance to showcase their skills, but also to earn a decent living, which provides them with some sort of security to work and improve their game."
Trinidad and Tobago, who are set to represent the region in the Champions League Twenty20 in India in September, won three of the four Caribbean Twenty20 tournaments that were held prior to the CPL.
Some of T&T's top players are presently representing other franchises, including Kieron Pollard, Lendl Simmons and world number one-ranked T20 bowler, Sunil Narine.
"Trinidad has been very successful in Twenty20 and it is good to know that other countries can now benefit from our players," said Trinidad and Tobago Red Steel captain Dwayne Bravo.
"It is helping traditionally weak Twenty20 teams to be competitive and no one team is dominating, which is good from having a competitive regional Twenty20 tournament."