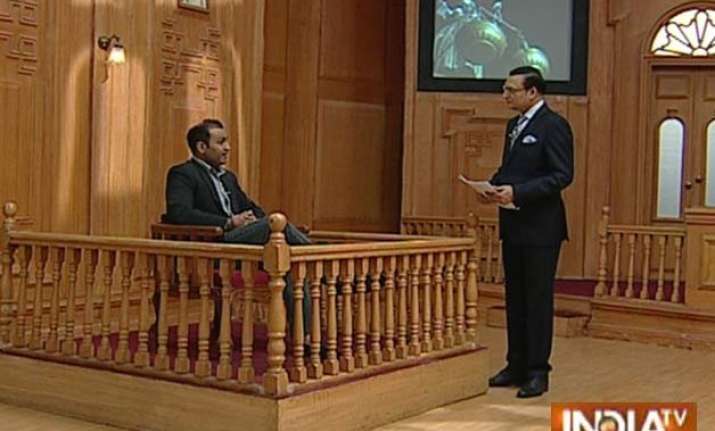 New Delhi: Former batsman Virender Sehwag has said there should be fixed criteria for selection of players, whether senior or junior.
"If a player fails to perform in four or five consecutive matches, he should be dropped irrespective of whether he is a senior or a junior player", he said.
Sehwag, who announced his retirement from international cricket on his 37th birthday on October 20, made this remark in Rajat Sharma's Aap Ki Adalat show, to be telecast tonight on India TV.
The former batsman said, on reaching the age of 30, he had already made up his mind to retire at 37.  
"Had the selectors told me that they were going to drop me, I could have requested them to allow me to play my last Test in Delhi and then announce my retirement, but they did not give me that opportunity.
"A sort of sadness shall always remain in my mind that I was not allowed to retire while playing, but anyway, it's all a part of life for a sportsman, who, while playing, never realizes when he should retire, but he starts thinking about it when he is dropped", Sehwag said.
"I would like to ask: Should not a player who has played 12 to 13 years for his country, deserves a farewell match?"
On organisers planning to give him a farewell at the forthcoming Test in Delhi between India and South Africa starting December 3, Sehwag said:"If that is so, it will be good. If BCCI cannot organise, at least DDCA should do. It's not a question of me alone, every player who retires should get a farewell."
The explosive batsman, who has made 23 Test centuries and 15 tons in ODIs, said: "Had India played two more Test series against Pakistan, I could have completed 10,000 Test runs. I have made 8,586 Test runs so far. We stopped playing home series or away series against Pakistan since 2006. If you see my batting averages particularly against Pakistan, you will find my batting averages between 90 and 100."
Asked why he had been prolific in his performances particularly against Pakistan, Sehwag replied:
"It's because of rivalry between both countries in sports. The grounds are always full, and the expectations among fans are high. This is because Pakistan was earlier a part of undivided India, that's why the rivalry is big and everybody becomes excited."
Asked about his on-field angry exchanges with Pakistani bowler Shoaib Akhtar, Sehwag said: "He used to tell me, 'bat like this, bat like that, why are your hitting the ball towards third man or point, why don't you bat straight'. Then I told him: are you bowling or begging? And then I hit a straight drive and told him 'tasalli ho gayi, ab kar le bowling' (are you satisfied? now do your bowling)"
In another instance with Shoaib Akhtar, Sehwag said: "He was throwing bouncers at me, and egging me on saying "hook maar, hook maar". I never played a hook or a pull-in shot in my life. That's when I told Sachin Tendulkar, who was at the non-striking end, to play a hook at his bouncer. And Sachin hit a six. I then told Shaoib - "Your hope has been fulfilled. A father is a father, a son will always be a son" (Le, teri khwaish poori ho gayi. Baap baap hota hai, aur beta beta hota hai)
Sehwag recounted an incident involving Australian player Michael Clarke. "I and Sachin were batting in Australia. Michael Clarke had been inducted fresh. He was frequently telling Sachin 'you're too old, you can't field, you can't do this, you can't do that'. I went up to Clarke and asked his age. He said, 23. I told him Tendulkar has made more centuries than your age".
Asked why he refused to listen to experts' advice about his batting style, Sehwag said: "I can't except everybody's opinions. I however accepted Srikkanth and Sunil Gavaskar's advice. I used to stand outside the leg stump. They told me, if you stand there, you will be away from the ball coming at offstump and will get caught. They advised me to stand at middle off. I followed their advice and I  began scoring 150, 200, six double tons and two triple centuries."
On poor performances of Rohit Sharma and Virat Kohli in recent matches, Sehwag said: "Tell me, did all big players, whether Tendulkar, Dravid, Ganguly or Laxman, make runs in every match? As far as de Villiers is concerned, he has done well this time, but not in the previous series. Now his (de Villiers) time is good, and he is grabbing the opportunity and made three tons in this series. But our players will also make runs in matches to come.
"When Virat hit four tons in four matches in Australia, he was lauded, but today when he has failed to make runs, he is being derided. It's all part of cricketing life. You play well in one series, and play bad in some other series. But the support of Indian fans is necessary to boost their confidence level."
Virender Sehwag in Rajat Sharma's Aap Ki Adalat show will be telecast Saturday at 10 pm on India TV. The repeat telecast will be made on Sunday at 10 am and 10 pm.