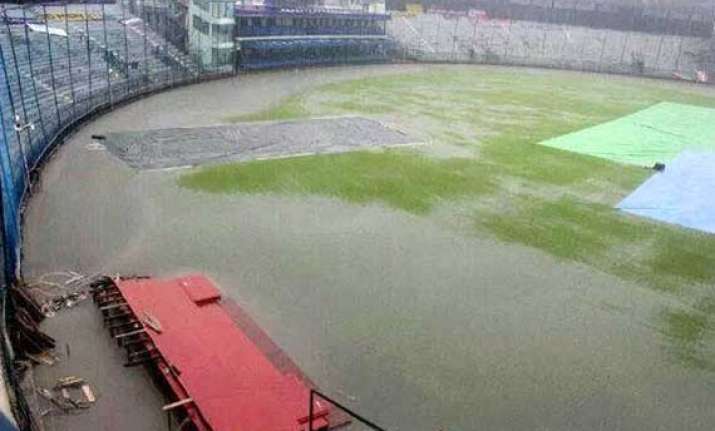 Cuttack:  The task to win the seven match ODI series for India who are trailing 1-2, against Australia became more difficult as the fifth one-day International was officially called off today without a single ball being bowled after a formal inspection by the umpires this morning.
Tthe Orissa Cricket Association was hopeful and even contemplating using helicopter to dry the ground but there was no let up from rain for five days that left the field soggy. OCA  announced the dates of ticket refunds also.
There was hope among the cricket enthusiasts with the sun shining bright Saturday morning but after the 11 a.m. inspection done by match referee Roshan Mahanama the outfield was deemed to be too wet for play.
Cyclone Phailin, a tropical storm from the Bay of Bengal, triggered heavy rain in the southeastern Indian coast.
Phailin, which made landfall Oct 12 near Gopalpur in Ganjam district, brought heavy rain and caused floods leaving a trail of destruction in several districts of Odisha.
The Odisha Cricket Association released a statement Friday which said that the ground was "completely water-logged and the chances of its drying up are extremely remote".     
Umpires Nigel Llong, S Ravi and C Shamsuddin inspected the ground at 11am as there was some sunshine after five days of incessant rains but with the outfield still soggy and damp patches at several places, the duo officially abandoned the match.     
"After inspection umpires in their report submitted that the outfield is not fit for play and no play is possible," OCA secretary Asirbad Behera said.     
Both the teams, who are put up in state capital Bhubaneswar, did not turn up at the venue as only the match officials came to make the announcement.     
Anticipating that the match would not be possible, no spectator turned up even as tickets for the 45,000-capacity stadium was almost sold out.     
This was the second consecutive match to be abandoned due to rain -- both in the East Zone -- as the Aussies continued to lead 2-1 in the seven-match bilateral series.     
Winning the series has now become more difficult for India who have to win both the remaining matches in Nagpur (October 30) and Bangalore (November 2).