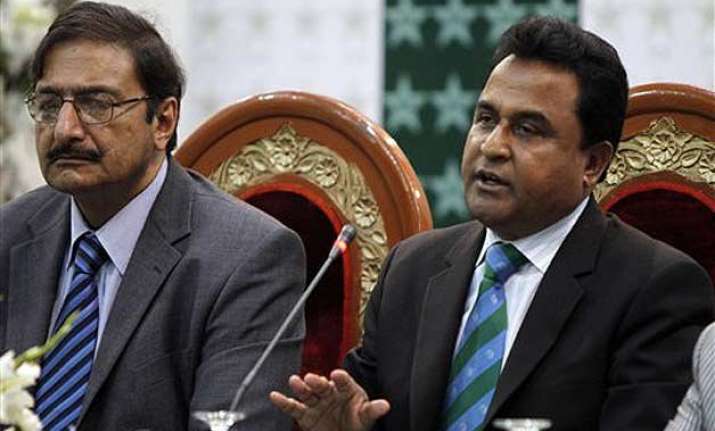 Mustafa Kamal was part of the presentation ceremony of the ICC Cricket World Cup but it was only after his allegations on the integrity of the match officials and his subsequent decision not to retract his comments which resulted in his removal from the presentation party.
Kamal, who resigned as ICC President on Wednesday, was in Australia ahead of the quarter-final stage as an ICC guest and was scheduled to stay in Melbourne until after the final.
He was planned to be on the podium on March 29 along with the ICC Chairman and chairmen of the co-hosts, until he launched an "uncalled for attack" on the match officials following India's 109 runs victory over Bangladesh in Melbourne, a top source said on Thursday.
For breaching his ambassadorial role, bringing the game into disrepute and conducting himself in a manner materially adverse to the interests of the ICC, Kamal could have been dismissed as ICC President well before the final in accordance with the ICC Constitution, the source explained.
Nevertheless, the ICC instead of taking the extreme action, took a more than reasonable approach, offering him an opportunity to withdraw his comments and apologise to the match officials. However, his stubbornness and refusal to retract his comments resulted in an emergency meeting of the ICC Board in Melbourne on the eve of the final.
In this 28 March meeting, the ICC Board unanimously agreed that the matter was serious enough to be properly considered at the upcoming Board meeting in Dubai at which Kamal would be given a fair opportunity to fully explain his conduct but that in the interim it would not be appropriate for him to join the presentation party at the final, the source said.
"The decision to stop Kamal being part of the presentation party for the final was perfectly understandable, given the nature and seriousness of his public comments which questioned the very integrity of the umpires.
"His comments amounted to the biggest insult you can give to an umpire and totally inappropriate. The umpires were seriously offended. There was no way he could have been part of the presentation party at the final which involved handing over medals to the match officials" said the source.
Kamal's public tirade against the ICC and its Executive Board also contradicted the position he took in his resignation letter in which he apologised to all, adding he had no complaints against anyone.